RALLYING AT ROMANNO BRIDGE, POWFOULIS, PITLOCHRY, DUNKELD, DREGHORN, MOORFOOT; MG CAR CLUB DANCE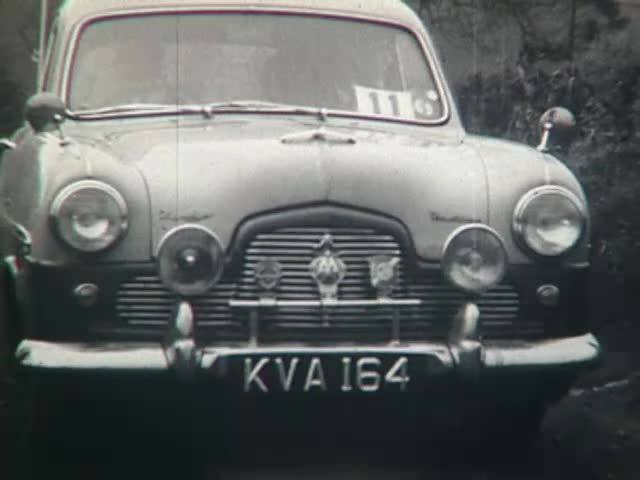 This video is not available to view remotely
Full length video - onsite only
Please read Understanding catalogue records for help interpreting this information and Using footage for more information about accessing this film.
Title: RALLYING AT ROMANNO BRIDGE, POWFOULIS, PITLOCHRY, DUNKELD, DREGHORN, MOORFOOT; MG CAR CLUB DANCE
Reference number: 6259
Date: 1955
Director: [filmed by Douglas Mickel]
Sound: silent
Original format: 16mm
Colour: bwcol
Fiction: non-fiction
Running time: 18.50 mins
Description: Amateur footage taken by Douglas Mickel of various events involving the MG Car Club. This film details a rallying at Romanno Bridge, Powfoulis, Pitlochry, Dunkeld, Dreghorn, Moorfoot and finishes with fun and games at the annual MG Car Club dance.

See also HOMEBUILDERS: Mactaggart and Mickel and the Scottish housebuilding industry ed. Miles Glendinning and Diane Watters, Royal Commission on the Ancient and Historical Monuments of Scotland, 1999.
Shotlist: [Shotlisted from Betacam SP 598, manual control track]

(0.00) no credits; [1955, March 13] [b&w] gvs MG autocross car rally in rather slushy conditions at Romanno Bridge, Peebleshire [film appears to be slowed down?] two men dual race between flagged area - lone drivers race off-road across countryside (3.20) 1955 MG Car Club Test Teasers various manoeuvres between flags, reversing etc (4.07) cases are packed into boot of car, men stand around chatting (including Douglas Mickel), car pulls away from what appears to be hotel or house they are staying in (4.34) gvs at car race track, three men purchase and eat hot dogs at hot dog stand (4.50) prototype MGA streamlined car speeds by; wide angle over huge rally advertising sponsors for BP, Autocar etc (5.13) 1955 MG Car Club Weekend Rally [col] exts Powfoulis Hotel; busy car park where people meet and greet, consult maps, shot of lone black car driving on country road (6.55) [b&w] cars driving up lanes and backroads in the rally - a few people stand around chattering (7.30) c/u sign reading 'The Burgh of Pitlochry Welcomes You' road past sign reading 'Fasganeoin Private Hotel', men are seen pacing out field, measuring tapes in hand (presumably in preparation for rally) (8.01) [col] blindfolded driving - more gvs driving, this time women are seen 'pacing' alongside cars with wooden flat squares (?) (9.01) [b&w] games played using cars, including 'fishing', sack race and football (9.58) [col] 'Welcome to Knockout Hill Climb, Dreghorn Sat. 9th June, MG' gvs same families and friends enjoy the spectacle (10.57) [b&w] more gvs rally races hill climb - c/u puppy dogs running about (12.03) arrival at rally and gathering and registering (wall has 'Ingliston Golf Club' sign; people depart onto road, probably the start of rally (13.06) various cars splash through huge puddle then reverse back up hill again - gvs driving on Moorfoot hills (16.05) MG Car Club Dance where game is played racing a toy 'horse', there is lots of laughing when one women falls off 'horse' - dancing and general frivolity - The End (18.50)