Three MGs in the 1955 Royal Scottish Automobile Club Rally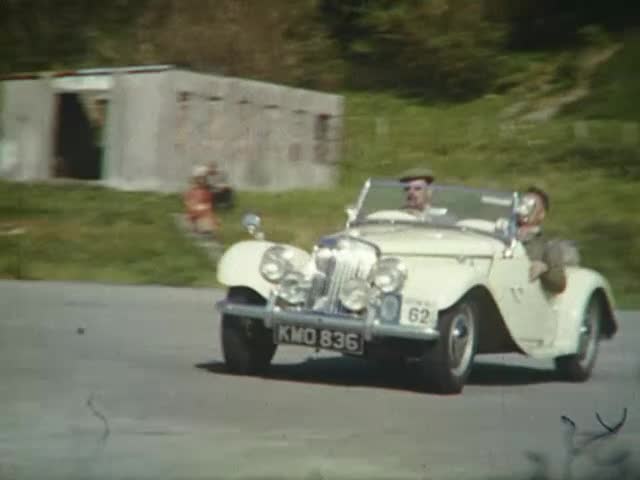 This video is not available to view remotely
Full length video - onsite only
Please read Understanding catalogue records for help interpreting this information and Using footage for more information about accessing this film.
Title: Three MGs in the 1955 Royal Scottish Automobile Club Rally
Reference number: 6260
Date: 1955, May - June
Director: [filmed by Douglas Mickel]
Sound: silent
Original format: 9.5mm
Colour: bwcol
Fiction: non-fiction
Running time: 18.21 mins
Description: The 1955 Royal Scottish Automobile Club Rally, filmed by one of the co-drivers in the MG team, Douglas Mickel. The rally covers 1050 miles, from Gleneagles to Campbeltown.

See also HOMEBUILDERS: Mactaggart and Mickel and the Scottish housebuilding industry ed. Miles Glendinning and Diane Watters, Royal Commission on the Ancient and Historical Monuments of Scotland, 1999.
Shotlist: [Shotlisted from Betacam SP 598, manual control track]

(0.00) Three MGs in the 1955 Royal Scottish Automobile Club Rally Rally Control at headquarters, Edinburgh people generally congregate, register (1.36) MG Team white MG cars gvs same (1.51) R Kay - D Mickel, E Herrald - P Chisholm, N Paterson - A Craig they set off (2.19) Check One. Fintry man hands out things ? notebooks? - Test One. Gleneagles stopping, skids almost - Coffee Stop at Perth men walking along (2.54) The DKW is unditched! crowding round car that has got stuck in ditch, in open moorland (3.12) Lunch at the Queen's View picnic with great view - cars driving along country road (3.54) Backward Glances. Crianlarich & Pass of Brander taken from moving car in front (4.28) Refilling at Oban. The rally centre for five days gvs refuelling and checking engine (5.08) Then the final check after 230 miles gvs same (5.28) All cars are put in the compound for the night.. even the battered DKW! gvs cars in compound, including very crumpled DKW (5.49) The 2nd day we go on to Connel Airstrip for a speed test as seen from moving car, approach and driving over Connel Bridge where cars assemble and participate in speed tests (7.03) The MGs are first, 2nd & 3rd in their class more gvs speed tests along airstrip (7.14) A road block causes a shore diversion car drives on beach and back on to road, followed by exts Creagdhu Hotel where cars and their drivers gather before setting off again (7.50) Inversanda Check gvs same - Majestic Ben Nevis view of same (8.30) In Glen Orchy gvs MGs driving there - Loch Awe brief view of loch (9.06) At end of 2nd day team is in 3rd place polishing MGs windscreens (9.26) The 3rd day - another scorcher view over still bay - Ganavan - a pleasant testing ground various tests underway (10.59) Chasing around Kintyre as seen from moving car - Campbeltown is reached as seen from moving car, they stop for picnic lunch (11.53) Ganavan again gvs as before, various tests; progressing along road - A satisfied team. In 2nd place at end of third day c/u men's faces in the MG team (12.48) Day 4 dawns bright... view over loch - ...but the camera let the team down gvs tests [picture a little blurred] (13.42) The 5th and last day is dull but MG team leads... & the camera is mended! cars sit ready for the off - The last test at Dalmally, monument hill speed trail up the hill, various cars (15.46) Miss Dolan AK's Secy shot of her, with pen in hand - Inveraray gvs as rally passes through there), brief shot looking over bay at Inverary - Arrochar gvs rally passing through (16.40) Final check at Glasgow after 1050 miles gvs same, at time control and entering petrol station - c/u newspaper report reading 'International Scottish Rally MG won team prize' - The winning team is MG car club Let loose in Glasgow! exts steps at entrance to RSAC in Blythswood Square, Glasgow, various men and their partners exit, waving to camera and dressed in finery furs, evening dresses etc (18.02) That ends the story of the three MGs as filmed by co-driver Mickel - car driving along street The End DWM (18.21)