SUMMER FAIR, EDINBURGH LOCAL CONSERVATIVE ASSOCIATION, MURRAYFIELD HOUSE 1971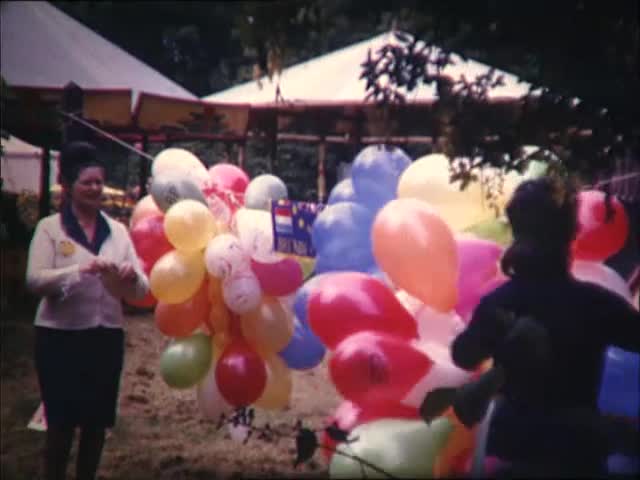 This video is not available to view remotely
Full length video - onsite only
Please read Understanding catalogue records for help interpreting this information and Using footage for more information about accessing this film.
Title: SUMMER FAIR, EDINBURGH LOCAL CONSERVATIVE ASSOCIATION, MURRAYFIELD HOUSE 1971
Reference number: 6242
Date: 1971, June 5
Director: [filmed by Douglas Mickel]
Sound: silent
Original format: 16mm
Colour: col
Fiction: non-fiction
Running time: 3.41 mins
Description: Amateur record of a Conservative Association Summer Fair at Murrayfield House, Edinburgh on June 5th, 1971. Records all the typical fairground attractions and captures the mood of enjoyment of those attending.

See P/CN179. Film makers diary records detailed information such as location and date - this record features DWM ref 426 - 428.

See also book HOMEBUILDERS: Mactaggart and Mickel and the Scottish housebuilding industry ed. Miles Glendinning and Diane Watters, Royal Commission on the Ancient and Historical Monuments of Scotland, 1999.
Shotlist: [Shotlisted from Betacam SP 597 - manual control track]

(0.00) no title credits, two ladies dressed in blue, load yellow flowers and placards into boot of Hillman Imp, men blow up balloons and prepare marquees for the local Conservative Association Summer Fair, Murrayfield House, Edinburgh (0.47) gvs people arriving, they are greeted by hostess at the door ; gvs fair including children's rides (1.35) shots taken from travelling car along road en route to fair - gvs fairground attractions, including preparation and eating of candy floss and putting (2.27) c/u sign noting there will be an address by Sir William McEwan Younger - gvs children enjoying ride on model steam train, gvs pony rides (2.53) ints marquee with stalls including 'Flowers, Fruit and Veg', ends with brief shot ice cream van (3.11) speeches, prize draw - brief shots unpacking the car back at family home (3.41)