TOWN IN THE MAKING, a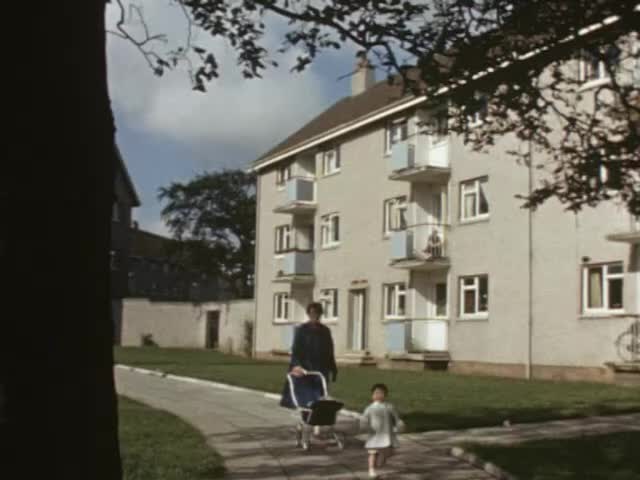 This video is not available to view remotely
Full length video - onsite only
Please read Understanding catalogue records for help interpreting this information and Using footage for more information about accessing this film.
Title: TOWN IN THE MAKING, a
Reference number: 5785
Date: 1963
Sponsor: East Kilbride Development Corporation
Production company: Thames and Clyde
Sound: sound
Original format: 16mm
Colour: bwcol
Fiction: non-fiction
Running time: 19.35 mins
Description: Overview of the development of East Kilbride new town as it reached half its target population in 1963. Emphasis upon East Kilbride Development Corporation's provision of housing, factories and shopping facilities in order to attract population and industry. Several ceremonies and visits by dignitaries.

Credits: p. Stanley Russell
comm. Geoffrey Turner
Shotlist: [b&w] gvs old Glasgow (0.46) [col] title, credits (1.08) pan shot new housing in East Kilbride, gvs streets and houses, people and cars (2.30) Stewarton Park houses which received Saltire good design award, gvs houses on Paterson Terrace and Simpson Drive, Westwood, St. Leonards Road (4.05) gvs houses for sale (4.19) speech at Parish church in old village, Lord Avon? (4.38) Hairmyres station, site of Waterlow factory, int printing press of Radio Times [College Milton area] (5.30) factory railway siding, steam engine with wooden goods carriages (5.45) Carruthers factory, also at College Milton, gvs int factory and opening ceremony performed by Professor Brown, chairman of the Development Corporation. Tour of factory (6.35) Laird Portch clothing manufacture factory (6.52) NEL (National Engineering Laboratory) James Watt building, Prime Minister of Burma visit (7.33) view from top of NEL building (7.45) PM of Burma visiting Murray Primary school (8.25) Duncanrigg Secondary school opening ceremony, children in playground (8.50) int classroom at Maxwellton Primary, Causewood (9.15) Sunbeam Electrics factory and gvs other factories and College Milton industrial area (9.53) Princess Margaret visit in 1957, inspecting Police, crowd watch and wave (10.48) town centre construction site (11.25) Princes Square shopping centre, camera pans town centre including Stuart Hotel opening by Lady Yonda (12.07) General Post Office, Lanarkshire Fire Brigade Station with Bilsland's Bread van passing in front (12.20) dance hall and bowling alley (12.35) PM Harold MacMillan opening town centre on 1 May 1959. Large crowds, British and Union flags. Brief shot speech and commemorative plaque (12.54) camera pans neighbourhood shops and services, brief view in chemists window (13.25) footpaths leading to playpark, children playing on chute and boat (14.00) memorial service to Hunter brothers, local pioneers of surgery, plaque and memorial (14.17) green belt parkland, trees and rivers (15.02) gvs various churches, camera pans int Sunday school service, children singing before leaving the church (16.00) John S. MacLay, Secretary of State for Scotland opening electronics factory (17.20) HM Queen and Prince Philip visit 2 July 1962, flags draped from windows, large crowd. Flags decked out on Centre roundabout, unveiling plaque to King George VI , two B&W inserts of newsreel? film (18.23) gvs Queen, tea at Torrance House, crowd and photographers (19.30) THE END (19.35)