WIRE LINES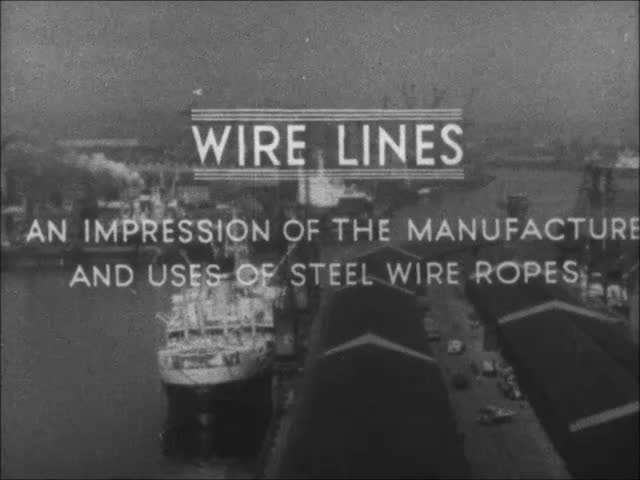 This video is not available to view remotely
Full length video - onsite only
Please read Understanding catalogue records for help interpreting this information and Using footage for more information about accessing this film.
Title: WIRE LINES
Reference number: 1638
Date: 1950c
Director: d. Stanley Russell
Sponsor: Martin Black & Co. (Wire Ropes Ltd.)
Production company: Thames and Clyde Film Company
Sound: sound
Colour: bw
Fiction: non-fiction
Running time: 23.17 mins
Description: An illustration of the manufacture of Martin Black's wire ropes. Their use in coal mining is highlighted. Second of two films made by Thames and Clyde for the company

See also ref. 1354 STORY OF A STEEL WIRE ROPE.
Credits: sc. Jack House
comm. Lionel Gamlin
sd. rec. Fred Fleming
Shotlist: Credits and acknowledgements. An impression of the manufacture and uses of steel wire ropes (.59); Montage sequence (1.42); Interior of Martin Black & Company's rope works. Long shot of shop floor (2.31); Oil drilling platform in the tropics (a 'wildcat' rig) (3.35); Interiors steel works (Lanarkshire Steel Corporation Limited). General views melting shop and rodmill (4.33); Coils of steel wire in Martin Black's store (5.35); Stobcross Crane in Glasgow lifting locomotive into hold of ship (6.10); Shots of Martin Black's shop floor, general views of pickling and coating processes. Stranding machine (4.14); Steel rope used in timber industry (7.47); Lab testing and planning department (8.38); General views of machinery and manufacturing processes in Coatbridge (9.36); Shots coal mine. Wire rope pulleys transport buckets of waste from pit head to bing (9.56); Maintenance engineer (10.05); Testing ropes in Coatbridge (10.49); Construction site of oil refinery near Southampton (11.36); Scale model of new co-axial machine in Coatbridge works. Shots of the machine (12.36); Cargo boat loaded with timber. Cranes loading timber (13.20); "Closing strands" to make single wire rope "sun and planet" machine (13.54); Close-ups of cage mechanism at coal pit (14.27); Kinneil Colliery, Alloa. Miner enters cage. Shots of shaft (14.55); Shots of ropes for mines in manufacture (15.43); Shots underground in coal mine. Rope used with disc shearer (16.41); GYRAC flex for coal cutting machines in manufacture (17.53); Coal mine. Surface mine cars being hauled by ropes (18.34); Close-up of Gyrac roller (18.50); "Empress of Britain" leaving the Clyde (19.08); Shots of the Coatbridge works. General views of machinery (19.25); Open cast mine. Shots of cranes digging (20.04); Craftsman splicing a steel wire rope (21.08); Large drum of rope being loaded onto truck (21.58); Exterior of the Canadian factory of Martin Black & Company (22.01); North American street scenes intercut with shots of the Coatbridge plant (22.38); Shots of a clock in the Coatbridge office (23.12); End credits (23.17).