TOWN OF TOMORROW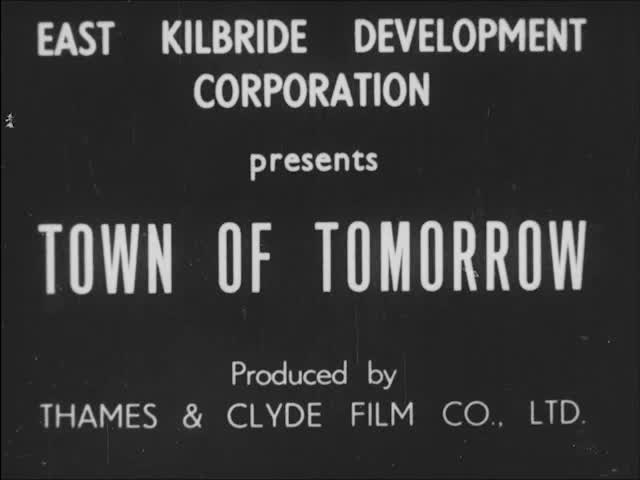 This video is not available to view remotely
Full length video - onsite only
Please read Understanding catalogue records for help interpreting this information and Using footage for more information about accessing this film.
Title: TOWN OF TOMORROW
Reference number: 6844
Date: 1954c
Director: d. & ph. Stanley Russell
Sponsor: East Kilbride Development Corporation
Production company: Thames & Clyde Film Co. Ltd.
Sound: sound
Colour: bw
Fiction: non-fiction
Running time: 25.07 mins
Description: Overview of the development that took place in the first six years of East Kilbride new town.

Commentary mentions film date of Autumn 1954. Includes some footage from ref. 5782 EAST KILBRIDE - GOING TO TOWN.
Credits: assisted by Frank MacLachlan and David Hanley
comm. James McKechnie
Shotlist: Gvs various types of houses (2.00) Rolls Royce factory, street and people views 1940's Glasgow (3.54) Clyde Valley Regional Plan - 1946 Master Plan, maps and illustrations of location of EK in relation to Glasgow. Hand with pen explaining greenbelt (5.30) gvs fields and construction site, railway station (6.27) Mavor and Coulson engineers at work (7.00) purification works at Philipshill. EK inaugural ceremony 1948 . Gvs housing construction (9.33) civic centre construction site (10.45) Torrance House, home of EKDC, planning models (13.45) aerial shot bus travelling through EK village, ext. shops, sign Picture Post. GVs children, int houses, more illustrations (16.22) Willow tearoom in row of shops (17.15) int canteen of Mechanical Engineering Research Laboratory, gvs int lab (18.53) Rolls Royce factory at Nerston industrial estate, initial stages of construction. Official opening by Duncan Sands? - Minister of Supply (20.30) tree loggers uprooting large tree, tree nursery at Torrance House (21.40) bridge building to counter dips in hills (22.15) Rolls Royce driving through countryside, gvs roads (23.30) new factories under construction. Gvs children in EK (25.00) THE END (25.07)