SALVESEN'S WHALING FILM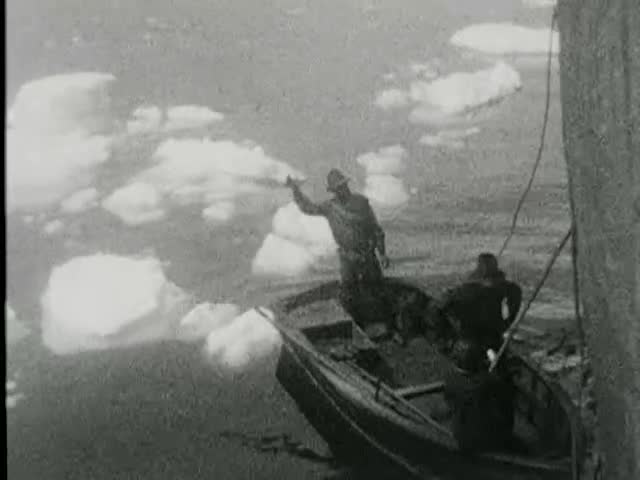 This video is not available to view remotely
Full length video - onsite only
Please read Understanding catalogue records for help interpreting this information and Using footage for more information about accessing this film.
Title: SALVESEN'S WHALING FILM
Reference number: 4388
Date: 1928 - 1929*
Director: [filmed by Salvesen]
Sound: silent
Original format: 16mm
Colour: bw
Fiction: non-fiction
Running time: 8.37 mins
Description: Amateur footage of the activities of the Scottish whaling fleet.

Donor's father was formerly gardener to Captain Harold Salvesen and was given the film by him before his death, believing it to be made by a member of the Salvesen family.
Shotlist: [shotlisted with the aid of scraps of paper notes attached to some of the fragments].

Tankers and floating factories. Salvestria (with stern slip) and Coronda. (0.06) gv's whaling vessels at sea, shot of side of Coronda. l/s across to steam whalers, one moored close alongside. ice cliff in b'ground. gv's vessel. (0.56) Sailor/crewman? in peaked cap. (0.59) [overexposed] shots ice pack with two men on it (indistinct?). (1.55) Man climbing up rope ladder to ship's crows nest (2.04) Harpoonist on harpoon deck by gun. (2.30 Whale in distance (indistinct) (2.34) harpoon fired. (3.00) Man in raincoat probably Captain Salvesen, (3.06) Whaling ship. foreground shots from small dinghy, brief shot Salvesen with camera then three crew men, one (not Salvesen) with camera as small boat approaches whaler. (3.55) Whaler approaches. pan alongside from small boat. Salvesen. (4.30) Whaler approaches tanker or factory ship at sea. (4.45) Killed whale lies alongside. Men in small dinghy slice up carcass and strips are hoisted up to the deck of the vessel alongside. (6.53) gv's on deck of seamen cutting the blubber into smaller pieces and disposing down hatch. (7.36) 3 whaling ships together. whale carcass being winched up stern slip of one (8.27) gv's from departing boat (8.37)