CARRADALE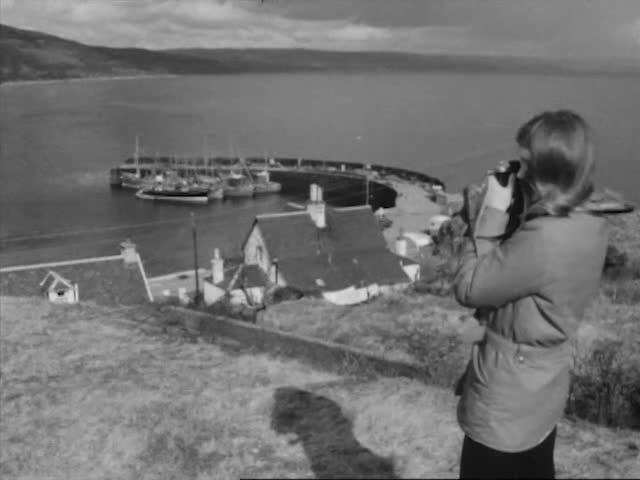 This video is not available to view remotely
Full length video - onsite only
Please read Understanding catalogue records for help interpreting this information and Using footage for more information about accessing this film.
Title: CARRADALE
Reference number: 4195
Date: 1969*
Sound: sound
Original format: 16mm
Colour: bw
Fiction: non-fiction
Running time: 17.56 mins
Description: A teacher visits the town of Carradale, conducting interviews and collecting observations of the area, to prepare a geography project for her class.

Production material for programmes produced on film by Jordanhill College.

Shotlist: ms teacher standing beside Carradale harbour; introduction (0.47) blank, counter leader (0.58) c/u woman taking photograph; ls harbour wall; pan over the town housing. (2.00) gvs workmen constructing a building extension. (2.38) Iv with shop owner Mr Campbell about local tourism; he is expanding premises to include a lounge bar and restaurant. (3.34) ls teacher walks past tearoom; (3.57) Iv with scallop fisherman Mr Brownie, in Carradale harbour. (5.16) Brief shots men painting boats; fishing boats in harbour (5.57) Int. home, c/u toddler and octopus doll; iv with young fisherman's wife, Mrs Campbell, about family life and how it is affected by her husband's work. (9.57) Gvs country landscape intercut with c/u teacher marking a map with observations of the surrounding fields, such as newly built houses (10.56) man felling tree as teacher records sound (11.31) Shots of hamlet and farm houses; cattle being fed biscuits and hay in field. (12.44) man filling trough for sheep (13.09) cows walking along lane (13.29) Iv with farmer, Mr Semple. c/u Semple marking the boundaries of his farm on map. He answers a set of questions about the people who work on the farm and its geographical features. (16.36) Gvs fishing boats in harbour (17.56)