NORTH UIST, OUTER HEBRIDES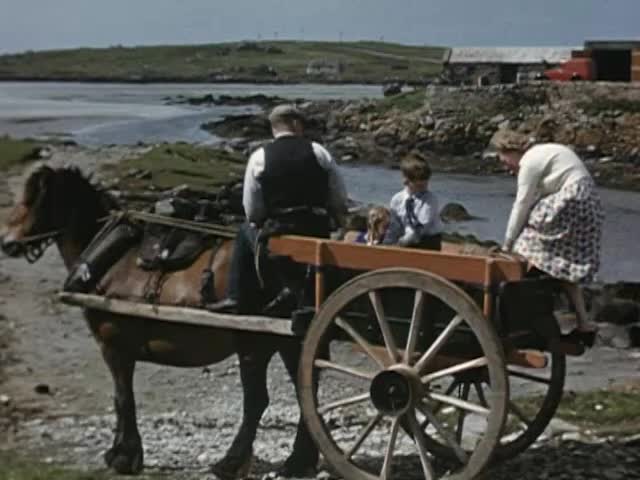 This video is not available to view remotely
Video 1

(currently displayed video)

Full length video - full length available onsite

Passengers boarding a British European Airways plane at Benbecula Aerodrome in the late 1950s. (clip)
Please read Understanding catalogue records for help interpreting this information and Using footage for more information about accessing this film.
Title: NORTH UIST, OUTER HEBRIDES
Reference number: 3770
Date: 1957*
Director: [filmed by Stanley Mills]
Sound: silent
Original format: 16mm
Colour: col
Fiction: non-fiction
Running time: 11.52 mins
Description: Mills family holiday on North Uist, donor re-enacted journey by cart for camera after missing ferry and taking 36 hours to travel from Glasgow to North Uist arriving in the middle of the night.

Stanley Mills was manager of Ralstons Commercial Photographers in Glasgow 1939 - 1974. Took films on family holidays and when out on photography commissions for Ralstons. Allocated himself 400ft per annum and took 28 films in all, in UK and overseas.
Shotlist: [No title]. Steamers and MacBrayne ferry Claymore at Oban; c/u shots of Clymore and passengers filing off (1.11) Fishing trawlers tied up at pier, crew on deck working on nets. (1.43) Castlebay, Barra. (2.11) Gv's family holiday on North Uist [taken to co-incide with Mills' commission to photograph the early stages of the building of the causeway between North Uist and Benbecula]. Family arrives on rocky shore and is transported by horse gig (cart) across low water to island of Grimsay? and their holiday cottage. (4.19) ls man petting calves; gv's scenery and sunset (4.59) gv's family enjoying holiday, visiting beaches, walking etc. (6.04) cows walking into field; ms woman ties a knot on the cows leg and milks it, cat waiting nearby (6.42) extreme ls woman walking across white beach; [Brief shot of two men waist deep in water - donor recalled that the engineers were caught out by a fast tide when plotting the course of the causeway.] (7.50) four children hold up kittens to camera (8.10) women carding wool and spinning outside croft house. Ext blackhouse (8.56) Haymaking, scenery, (10.02) collecting a few bricks of peat in a storm (10.49) Family leaving by small rowing boat. (10.57) Benbecula aerodrome, BEA plane departing. (11.52)