SOWER WENT FORTH, a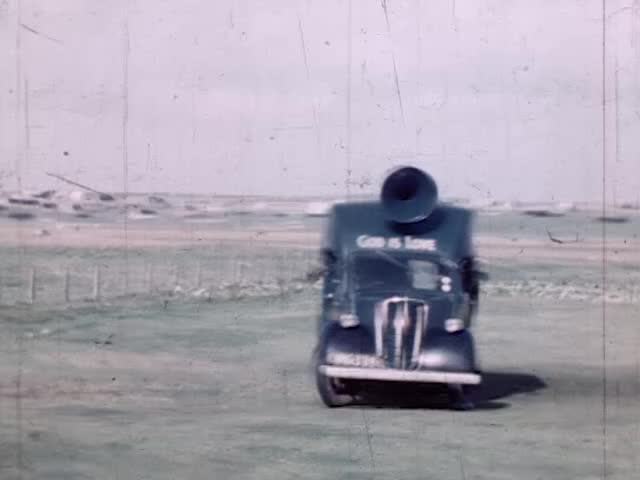 This video is not available to view remotely
Full length video - onsite only
Please read Understanding catalogue records for help interpreting this information and Using footage for more information about accessing this film.
Title: SOWER WENT FORTH, a
Reference number: 2943
Date: 1950 - 1959*
Director: [filmed by James Clark]
Sound: silent
Original format: 16mm
Colour: col
Fiction: non-fiction
Running time: 44.41 mins
Description: Agricultural events and crofting life in the Western Isles. Jimmy Clark, colporter/evangelist, preaching in the Highlands and Islands.

Shot by James Clark of the Scottish Colportage Society on his tours around Scotland as a colporter/evangelist
See paper archives file for Xerox copy of autobiography "From Pit Boy to Preacher".
Shotlist: [shotlisted at different speed - actual timing is 44.41 mins at 16fps]

Shot of man sowing seed. A story of sowing and reaping in the Western Islands of Scotland. By Loch Lomond to West Loch Tarbert. scenics (2.11) By Sea to Islay Port Ellen, Bridgend, Portnahaven - hoisting van onto ferry - "Lochiel". Port Ellen - unload van by hoist - Jimmy Clark doing sales pitch. Bowmore, cattle sale, sheep in pen (5.34) Still Travelling North we pass by famous Highland lochs and through Highland villages and scenes, including the famous Ballachulish ferry (not seen) scenics - van - scenics etc. (7.10) From Oban to Mull and Tiree gvs Oban. Loading van. Tobermory, scenics, steamer, Iona (9.50) steamer (two funnels) kids, scenics (10.50) unloading coal from puffer "Lascar" on beach at Iona, gvs locals. Scenics (12.45) approaching Staffa (13.00) going ashore, shot of blackhouse - beach with Jimmy doing lecture in front of blackhouse, cattle on strand, scenics (15.00) Jimmy doorstepping at croft. People outside school (15.36) van on road, scenics (15.58) Over the Sea to Skye, Portree, Dunvegan Castle steamer "Lochnevis" parade, pipes and drums. gvs Dunvegan as pipes and drums arrive (16.45) Isolated homesteads are reached. The Coolins, Loch Coruisk. Van and blackhouse in distance - three people at van - scenics - empty landscape, van on road (18.20) van aboard ferry (18.34) we leave the mainland and cross over to Stornoway, capital of the island of Lewis. We are to show some scenes taken during the recent remarkable revival. "Loch Seaforth" entering Stornoway steamer arrives. gvs "Lady Killarney" at pier (steamer) (20.00) battleships (naval vessels) tied up (20.05) pipes and drums, parade, gala queen (?) Lewis Castle. Scenics sheep (20.46) Work among children: prominent feature of Colportage van and local kids - story, adults outside church buildings, Colportage van (21.25) couple posing beside van - pan round to their blackhouse (21.35) Congregation emerging from kirk (21.40) open air, two women (with machines) doing something to woollen socks. [*1946] Old woman spinning at front door and carding wool (22.33) man with bales of tweed. Local kids (23.23) Postie and shot of minister outside Aird Free Church. Two women on road beside church with cow. Woman and keshie with children (23.55) standing stones (24.23) By Dunoon & Colintraive to Bute (*1950] locals. Lighthouse, scenics, pleasure steamer, l/s naval vessel, scenics (25.53) van off Colintraive ferry (26.15) Whenever we go and in all weathers our message is the same for all - old and young alike [*1959] children hold letter "Jesus saves" (26.38) Scottish Evangelistic Council Banner, crowd of people on beach - sandcastle. Story telling A bible in every home: Christ in every heart [*1959] doorstepping [quote from Psalm 126] sheaves in field. Haymaking, sunset (28.27) The Scottish Colportage Society in association with the Scottish Evangelistic Council and the National Bible Society of Scotland solicits your support from this work. The End. (28.40)