JACK HIGH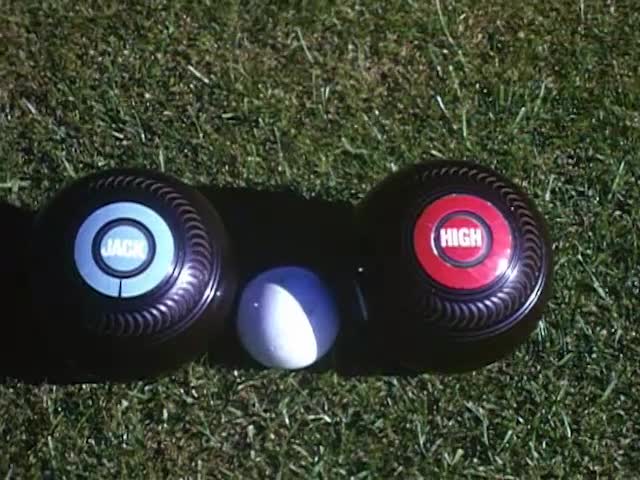 This video is not available to view remotely
Full length video - onsite only
Please read Understanding catalogue records for help interpreting this information and Using footage for more information about accessing this film.
Title: JACK HIGH
Reference number: 3666
Date: 1965* - 1967
Director: filmed by T. H. Thoms and N. M. Allan
Sponsor: Scottish Bowling Association
Sound: silent
Original format: 16mm
Colour: col
Fiction: fiction
Running time: 35.45 mins
Description: This is a film regarding a fictional character and how he became interested in playing bowls. Opening with the central character as a boy playing bowls by chance, the scene changes to show the character as an adult, then the character failing at golf and going back to bowling. The end of the film has footage of real bowling championships in 1966 and 1967.

Shotlist: This film was sponsored by the Scottish Bowling Association and it was devised and produced by T H Thoms and N M Allan (.5) shot of two bowling balls with Jack High laid out to title the film (.9) Some incidents in the life of Jack High an enthusiastic bowler (.13) It all began one day some years ago when young Jack took his dog for a walk (.18) boy walking through the a park with his dog (.41) gvs of boys bowling on the green (.53) boy walking his dog beside the bowling green (1.21) c/u of the boy sitting on a park bench (1.24) boys bowling and going to speak to Jack (1.41) c/u of the boys talking and Jack stepping on to the bowling green (1.58) boy showing Jack the bowling ball, explaining what to do, and demonstrating how to bowl (2.19) Jack bowls the ball and sends it wide (2.30) the other boy bowling correctly, Jack sends the ball wide again (2.51) Jack and the other boy talking, Jack keeps bowling until he gets it right (3.37) boys talking (3.43) Jack and the other boy playing bowls, Jack is being instructed on which bowling ball to aim for (4.29) The years went by. Meanwhile, Jack had taken up golf, and we now see him one fine Saturday afternoon (4.35) two men strolling onto the golf course ((4.41) box Druid1 412 yds (4.42) men playing golf (5.21) Jack hitting the ball out of a bunker, one man putting (5.35) gvs of the men playing golf (5.42) box The Lodge 2 518 yds par 5 (5.43) Jack hitting the ball out of one bunker into another (5.51) box Birkie 3 380 yds par 4 (5.51) both men teeing off, Jack hits the ball into the rough (6.05) l/s of the fairway, and Jack hitting the ball continually into the rough (6.23) both men playing to the third hole and jack missing the putt (7.05) shot of golf ball being sliced by lawn mower (7.15) Jack in the rough and his oponent waiting patiently (7.27) sign Pitalpin 18 377 yds par 4 (7.27) Jack ripping up his score card (7.32) As we have seen, golf wasn't Jack's game and, rembering his first attempt at bowling, he decided to take some bowling lessons from a good tutor ( 7.42) gvs of men playing bowls (7.53) Jack approaching the bowling green and talking with his tutor on a bench before stepping on to the green (8.13) c/u of the tutor showing Jack how to hold the ball, Jack holds the ball (8.43) the tutor shows Jack how to bowl the ball, Jacks has a few throws before they have a game (10.07) gvs of Jack and his tutor bowling (10.35) bowling to camera (12.00) men walking towards the bowls to discuss their play (12.11) gvs of men playing bowls and Jack leaving the club (12.31) He joined the local Bowling Club, was duly introduced, and played in his first club game (12.38) gvs of men practicing bowls and a man rimming the lawn (12.59) Jack arriving at the club (13.07) two men sitting on a bench talking (13.14) men going to meet Jack (13.22) gvs of men playing bowls (13.28) Much of his spare time was spent on the Green studying play (13.33) c/us of bowls being played (15.45) The weeks passed, and Jack found that there was more to bowling than just bowling when he attended the International Bowling Association Dinner in Glasgow (15.55) guests at the bowling association dinner (17.44) Next day, Jack visited the Queen's ark Green where the international matches were played ( 17.52) 1966 (17.57) programme of international matches (18.00) outside of the club, c/u on Jack, (18.08) players lining up (18.23) a piper (18.29) players walking on to the green behind the piper for the opening ceremony (20.23) various speeches given at the opening (21.06) gvs of the first play (21.15) team photographs being taken (22.20) gvs of men playing bowls (23.24) shots of the Association officials (23.37) people having afternoon tea (23.47) There was great delight when Scotland retained the Championship (23.55) Scotland being presented with the torphy (24.10) c/us of the winning team (24.26) A return visit was made to see the Scottish Bowling Championship Finals (24.32) Jack watching the bowling (24.36) John Hershaw, the Scottish Champion, defending his title was in great form. (24.41) gvs of the bowling matches (28.38) pan across the spectators , shot of two players before their match begins (29.01) gvs of the bowling matches (31.54) Champion ship Final 1967 (32.01) gvs of men playing bowls (34.58) Thinks Jack - " Why did I not take up this game sooner ? ", when he sees young men of his own age international players. Meeting them has fired his ambition . Will he ever get the coverted White Thistle on his blazer ? Time will tell..........(35.13) shot of Jack speaking with the younger bowlers (35.42) The End (35.45)