SCOTLAND V CZECHOSLOVAKIA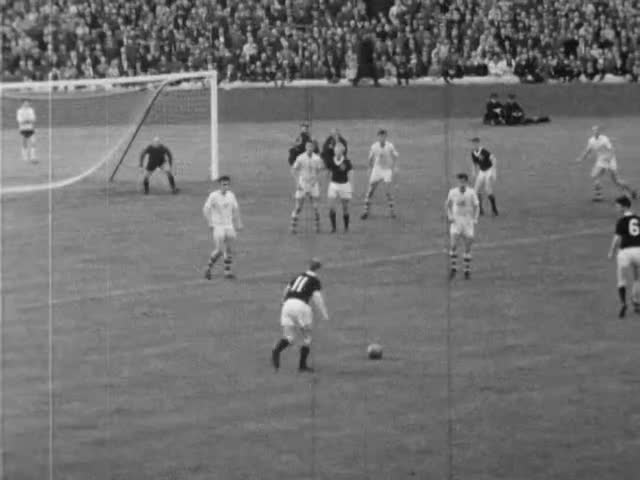 This video is not available to view remotely
Video 1

(currently displayed video)

Full length video - full length available onsite

Denis Law scores Scotland's winning goal in a 3-2 win against Czechoslovakia at Hampden in 1961. (clip)
Please read Understanding catalogue records for help interpreting this information and Using footage for more information about accessing this film.
Title: SCOTLAND V CZECHOSLOVAKIA
Reference number: 5424
Date: 1961, September 26
Production company: [ Scottish Television (?)]
Sound: sound
Original format: 16mm
Colour: bw
Fiction: non-fiction
Running time: 16.40 mins
Description: Highlights of Scotland v Czechoslovakia football at Hampden Park on 26th September 1961. Film finishes with score 3-2 to Scotland with 7 minutes remaining.

Commentator is quite possibly Arthur Montford.
Shotlist: [Film stock 1961*] Highlights of Scotland v Czechoslovakia at Hampden Park on 26/9/61. (1.30) Czechoslovakia score to take the lead (5.46) Ian St John equalises (8.07) Czechoslovakia kick off second half (9.31) Czechoslovakia score to make it 2-1 (10.29) [different film stock 1985*](12.21) Denis Law scores to make the score 2-2 (12.47) [film stock change 1961*][ (15.17) [different film stock (pos print?) 1985*] Denis Law scores to make the score 3-2 to Scotland with 7 minutes remaining (16.40)