MRS KENNEDY FRASER IN IONA AND THE OUTER HEBRIDES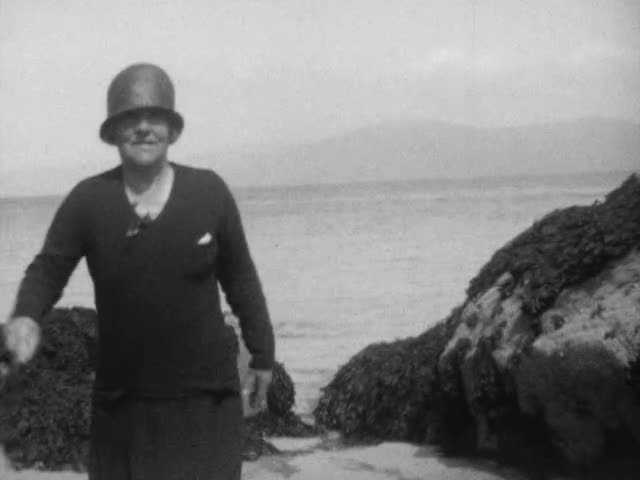 This video is not available to view remotely
Full length video - onsite only
Please read Understanding catalogue records for help interpreting this information and Using footage for more information about accessing this film.
Title: MRS KENNEDY FRASER IN IONA AND THE OUTER HEBRIDES
Reference number: 3613
Date: 1928*
Director: filmed by Marjory Kennedy Fraser
Sound: silent
Original format: 16mm
Colour: bw
Fiction: non-fiction
Running time: 13.43 mins
Description: Amateur footage shot around Iona and possibly Outer Hebridean islands c1920s, featuring many beach/sea scenes and notably, a puffer being loaded with cargo [possibly peat/coal?] from horse drawn carts.

Marjory Kennedy Fraser (1857-1930) was a singer and folk-song collector, born in Perth. One of a large musical family, she trained in Paris as a concert singer. In 1882 she started studying Gaelic music, took lessons in Gaelic, and started to collect Hebridean folk-songs, for which she composed modern harmonic settings. In 1909 she published "Songs of the Hebrides". She also wrote the libretto of Granville Bantock's opera "The Seal Woman".
Shotlist: Title (0.05) various shots of beach scenes, seacapes and of surrounding landscape, including Marjory Kennedy Fraser paddling in sea with children {possibly grandchildren?] and bird life on the beach rocks/cliffs (6.33) various shots of the loading of a puffer boat on the sea shore, from many horse drawn carts by a crane/winch mechanism (7.40) shots of Marjory Kennedy Fraser and entourage [children and possibly Maimie and Ruth Waddell?] in the grounds of a ruined abbey [probably Iona] (9.33) shots of children enjoying a ride through a field on a horse drawn cart followed by shots of the entourage at the beach (12.41) brief shots of M K Fraser and children in Edinburgh, at foot of Scott Monument (13.43)