ORKNEY NEWSREEL PART ONE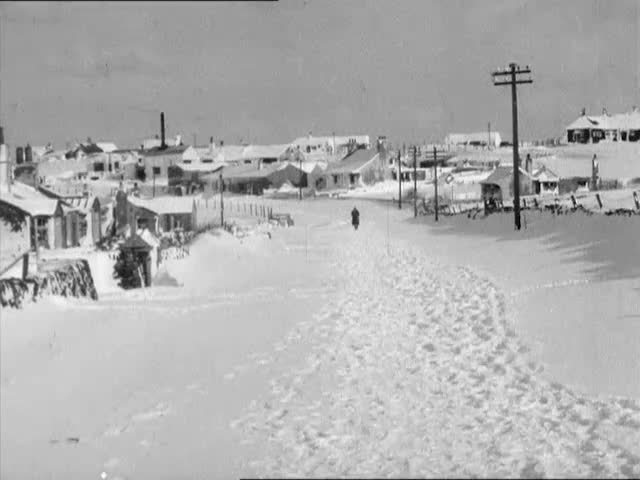 This video is not available to view remotely
Full length video - onsite only
Please read Understanding catalogue records for help interpreting this information and Using footage for more information about accessing this film.
Title: ORKNEY NEWSREEL PART ONE
Reference number: 3554
Date: 1918 - 1953
Director: [attributed to Shearer]
Sound: silent
Original format: 35mm
Colour: bw
Fiction: non-fiction
Running time: 21.31 mins
Description: Compilation of local events, including extreme winter conditions in Kirkwall 1918, sports competitions, the annual Handba' game. See also ref. 3594 (ORKNEY NEWSREEL PART TWO).

See press accounts of winter snows in January 1918. VHS copy held in Orkney Archives who have identified individuals in the films.

Local topical made for Shearer family cinema, formerly Albert, Kirkwall. Between 1947 and 1955 the cinema operation was run on a lease of the Temperance Hall, Kirkwall. D B Pearce opened the Electric Theatre in Kirkwall in 1914. Took local topicals. His daughter took over followed by his grandson Douglas Shearer, also a stringer for BBC and Grampian Television in the 1960s. He ran the family cinema.
Shotlist: [shotlisted at 24fps] NEW YEAR'S DAY BA' 1952 (0.08) New Year's Day. Gv's Handba' game in play in snowy streets of Kirkwall watched by onlooking crowds (1.34) ORKNEY SAILING REGATTA AUGUST 1952 shots of sailing boats in harbour and on water (2.49) BOWLING, BATHING and SWIMMING IN KIRKWALL shots of a bowling game in progress in grounds beside ruin, Earl's Palace (4.29) shots of boys swimming in harbour with steam boat in b/g (5.19) shots of streets and countryside in deep snow, with shots of men clearing snow from road; snow plough at work; snow laden power lines shown hanging low and broken (7.19) STORM DAMAGE AT THE AYRE ROAD January 1953 shots of flooded streets, storm damaged buildings; fallen tree; car driving through a flooded street; (7.42) shots of high seas battering seafront and harbour (8.41) shots of damaged road and seafront; c/u broken exposed pipes; gvs broken blocks of road lying where they were cast by the sea (9.47) leader, blank (10.05) TENNIS TOURNAMENT AT COSTIE'S PAVILION [(16.53-20.00) is footage from 1923] c/u trophy cups; exts. Tennis club; c/u signs "Costie's Pavillion" and "Tennis Putting Billiards" (10.42) gvs tennis tournament, mixed doubles matches (14.12) ls spectators seated beside court (14.34) shots of spectators; group shots, including young boy holding racket (15.20) further shots of play, from net (16.22) Shot of players and umpires, standing behind trophy table (16.22) [shotlisted at 16fps] INTER-COUNTY FOOTBALL MATCH. Played in Bignold Park. May 11th 1923. SHETLAND v ORKNEY Shetland 2 goals Orkney 1 goal (16.50) leader, blank (17.01) shot of each football team (17.14) gvs football match (18.12) Ayr, Kirkwall, with a northerly gale (18.16) shots of high seas at seafront (19.01) [January 1918] A WINTRY DAY IN KIRKWALL (19.07) shots of people on deep snow covered street and men and boys in uniform (naval?) clearing streets of snow with shovels. children snowballing. Ms Sea cadets? walking past camera, carrying shovels (21.26) brief shot ext. St Magnus Cathedral (21.31)

[Variable filming speeds from story to story].