ORKNEY NEWSREEL PART TWO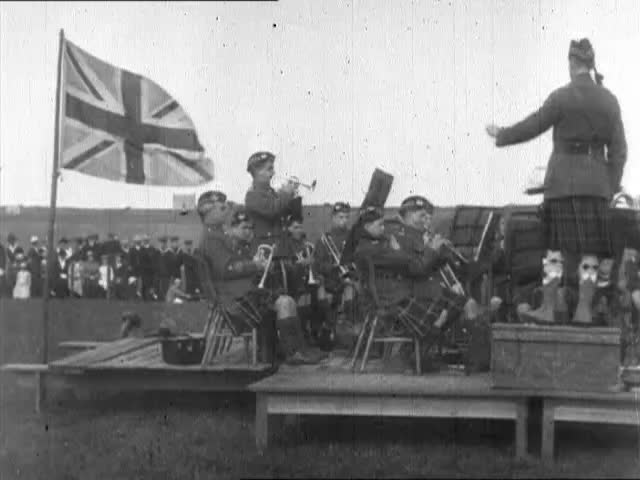 This video is not available to view remotely
Full length video - onsite only
Please read Understanding catalogue records for help interpreting this information and Using footage for more information about accessing this film.
Title: ORKNEY NEWSREEL PART TWO
Reference number: 3594
Date: 1918 - 1954
Director: [attributed to D B Pearce and Douglas Shearer]
Sponsor: [ Electric Cinema and Temperance Hall Cinema, Kirkwall]
Sound: sound and mute
Original format: 35mm
Colour: bw
Fiction: non-fiction
Running time: 20 mins
Description: A compilation of local newsreel items from Orkney including visit of US Secretary of Navy, Josephus Daniels, a fund-raising sports event in 1918, the unveiling of Kirkwall War Memorial in 1954, and the only sound piece on the reel, the 1952 Jubilee celebrations of Orkney Golf Club. See also ref. 3554 (ORKNEY NEWSREEL PART ONE).

See press accounts of US politician Daniels visit. VHS copy held in Orkney Archives who have identified individuals in the films.

Local topical made for Shearer family cinema, formerly Albert, Kirkwall. Between 1947 and 1955 the cinema operation was run on a lease of the Temperance Hall, Kirkwall. D B Pearce opened the Electric Theatre in Kirkwall in 1914. Took local topicals. His daughter took over followed by his grandson Douglas Shearer, also a stringer for BBC and Grampian Television in the 1960s. He ran the family cinema.
Credits: [sd. comm. Bill Hewison, reporter on the Orcadian newspaper]
Shotlist: [16fps] [Silent]
[April 1919 Visit of Secretary of United States Navy, Josephus Daniels to UK] shots of crowds gathered outside St Magnus Cathedral, Kirkwall, marquees in the cathedral grounds, people milling about on road, a pipe band marching through street followed by crowds (1.30) shot of Daniels party with military and civic figures entering Cathedral (2.00) c/u of children watching in the street [covered supply? vans in b/ground] (2.49) ls to c/u shot of car driving through (3.07) shots of a band playing watched by children (3.23) men in uniform (U.S. navy?) standing watching [the events?] (3.55) ms children watching wind band (4.33) Sports held in Bignold Park on Saturday, Sept. 7, 1918, in aid of Seaforth Highlanders' Prisoners of War Fund. shot of a wheelbarrow race, a military band playing on bandstand, shots of other events including the 'greasy pole', (5.41) shots men sliding down a wire "flying fox" (5.54) tug-of-war, races, including a six-legged race, women's and girls races (7.36) [25 fps] May 17th 1953 Empire Youth Sunday Salute taken by Commander E Bruce, R.N. shots of youth organisations marching on street watched by onlooking crowd, salute being taken (11.13) Unveiling of Kirkwall's War Memorial by Mrs. Tate July 1954 elevated shots of unveiling ceremony (11.33) ms crowd singing hymn; shots of crowd listening to speech, given by unid. uniformed man (12.09) Mrs Tait unveils the Memorial (12.21) pan over crowd, some holding poppy wreaths (12.40) ls pipe band, behind memorial (12.48) ls laying wreaths (13.19) [18fps] Police Ball February 1953 c/u of couples ballroom dancing (15.24) c/u musicians in band, saxophone, accordion, bass and drums (15.30) c/u couples dancing (16.15)

[sound]
[25 fps] Orkney Golf Club Jubilee July 1952 (16.22) shots of Greenbank golf course (16.29) shot of golfer Andy Buchan driving off (16.37) ls club house; views over the golf course, Kirkwall bay and Kirkwall in b/ground (17.27) guests arriving for the celebrations; Dr Sibbald swings golf club (17.57) group photo (18.18) shots inside marquee of people taking high tea and speeches being given, including Jack MacKay, club captain (19.08) brief shot caterers clearing up (19.16) c/u souvenir programme (19.19) group photo of 430 Coast Regiment and shots of regiment and cadets marching off led by second in command Major Harmon, inspection of regiment on pier (20.00)