FRS CLUB, LINES OF DISTINCTION, PRESIDENT W.J. CARRIE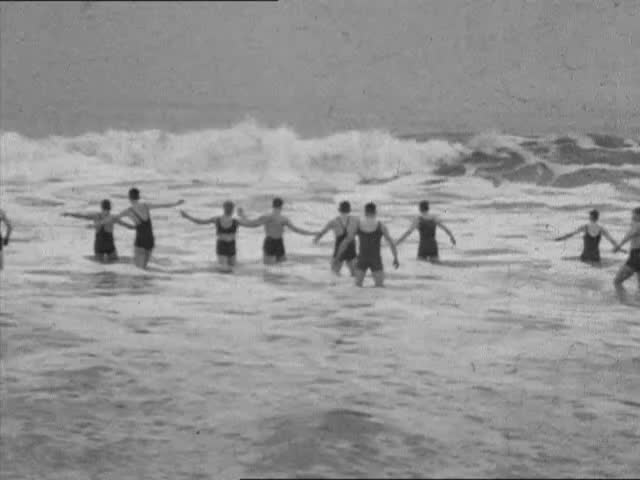 This video is not available to view remotely
Full length video - onsite only
Please read Understanding catalogue records for help interpreting this information and Using footage for more information about accessing this film.
Title: FRS CLUB, LINES OF DISTINCTION, PRESIDENT W.J. CARRIE
Reference number: 3490
Date: 1937 / 1959
Director: filmed by John Campbell]
Sound: silent
Original format: 16mm
Colour: col
Fiction: non-fiction
Running time: 15.54 mins
Description: Black and white film of men carrying out various exercises in a gymnasium , accompanied by a woman playing the piano. Also has scenes of men and women swimming and bathing in the sea off 'Aberdeen'.
Credits: FRS Club Instructor Cpt, Bill Lawrie 1959
Shotlist: [shotlist re-timed from speed corrected tape, manual control track]

[COL, oof] title. FRS Club Instructor Cpt, Bill Lawrie 1959 (0.28) [BW] gvs gymnasium where men do various exercises and play games such as volleyball. [Note there is a young woman playing the piano as the men continue exercises] Men pose for group photograph in gym hall (8.04) [COL] men in swimming trunks on beach run into sea to paddle and swim, Aberdeenshire [weather looks cold] (9.59) shot of building on beach, the clock reads just after 9 o'clock (10.09) The End (10.15) [BW] men in bathing costumes playing a ball game on the beach (11.01) brief shot of bystanders (11.07) shot of man performing a handstand on the beach, men playing a ball game and men bathing in the sea - some brief shots women bathing towards end of sequence (12.28) shots of ball game on ground beside beach, man doing handstand and men playing leap frog (13.01) c/u of a man and woman and three women wearing bathing costumes (13.17) shot of women playing with skipping rope (13.34) shots of men and women running in and out of the sea (14.02) shots of bystanders on the beach (14.41) brief shot of man skipping (14.48) shot of women and man walking beside bathing huts, woman skipping, ball games on the beach and men and women swimming in the sea (15.54)