BY LEARNING AND COURTESY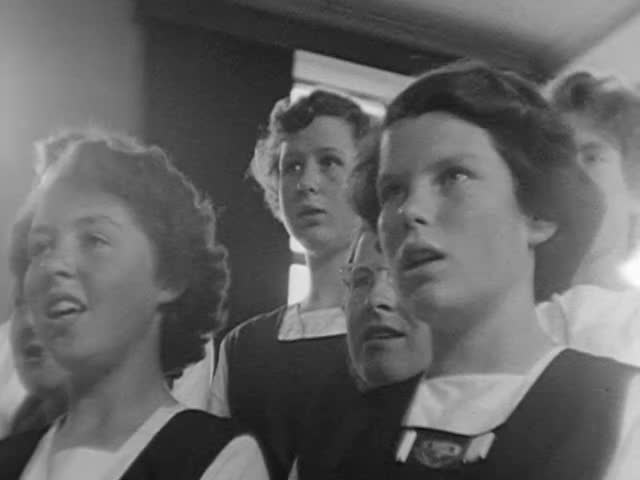 This video is not available to view remotely
Full length video - onsite only
Please read Understanding catalogue records for help interpreting this information and Using footage for more information about accessing this film.
Title: BY LEARNING AND COURTESY
Reference number: 3019
Date: 1954
Production company: p. James E. Henderson Ltd.
Sound: silent
Original format: 16mm
Colour: bw
Fiction: non-fiction
Running time: 48.48 mins
Description: Aberdeen High School for Girls - from the first day of infant class to prize-giving for senior pupils leaving school. The film follows children's learning, play and sports through each stage of development at school.

The film was made to mark the retiral of Headmistress.
Credits: Alan Stott
Shotlist: REEL I

Title. A documentary film of life in Aberdeen High School for Girls Summer Term 1954 c/u School badge (0.39) exts. school (0.47) A beginner arrives for the test mother and child arrive; table of girls play with blocks and jigsaws (2.05) girl sits with an older woman, completing simple counting tasks (2.33) Learning to play together before working together exts. girls wearing play smocks use jungle jim, slides and see saws (3.49) Nearly time for Milk so hands must be washed! small girls wash hands, unwrap their piece and pray before eating (5.08) Introduction to the three R's girls sit at grouped desks (5.46) Handcraft in the Infant Room playing with plasticine Arithmetic in action! It's fun to go shopping girls learn to make change (7.30) Arts & Crafts with the seven year olds girls make potato prints and weave (9.06) Speech Training The ballad of Robin-a-Thrush a group recite the poem, while two costumed pupils mime the parts of Robin-a-Thrush and his wife (10.06) Learning young the delights of a Library gvs same; Preparing a Play "The Song of Hiawatha" Listening to the poem; Writing favourite lines; making the costumes; Painting the scenery; The play achieved! gvs same (12.22) Mime & Movement early stages class go through a series of movements and dance steps; c/u hands duetting on piano (14.43) A broadcast lesson in Geography By "Puffer to the North" c/u radio; c/u lesson on blackboard; pan over class (15.31) Arithmetic Profit or Loss gvs lesson; girl comes to front of class to write answer on the board (16.30) Flower Studies class sketch flowers, consult flower charts and reference books (17.59) A Scripture Lesson "The Alabaster Box" gvs same (18.38) History The capture of Roxburgh Castle costumed children act the story, using a makeshift castle of desks and chairs; pair of girls paint the castle; c/u lines from the drama pinned on wall; study group (20.29) Red Riding Hood French through acting c/u cast list; brief shots drama, "Chaperon Rouge" [Little Red Riding Hood] (22.34) Mime & Movement with the Juniors gvs same (23.41) Musicians in the making violin group play for audience of mothers; flute; ms Miss Rose, headmistress at rear of hall; french horn; piano duet; (24.50) The morning bustle girls walk into the school; milk is delivered (26.14) Morning Assembly Miss Rose stands at lectern; c/u bible, "the Song of Solomon"; assembly sings "The Lord's my Shepherd" (27.36) English c/u play, "A Midsummer-Night's Dream"; brief scene; class copy down homework from the board; working in the library, taking out a book (29.39) Mathematics (30.33) History using a film strip c/u text "The Field of the Cloth of Gold"; ms teacher operates projector, reading from text (31.30)

REEL II

Geography (0.03) female teacher at head of a small class of girls, using a map of Europe; ms class put their hands up to answer questions (0.38) French (0.43) French class, intercut with c/u girl writing in jotter and class raising hands, individual girls stand to give their answer; French assistant? takes a short section of the class (2.27) Latin a Roman house ms girls write at the blackboard; shots of standing girls reading out to the class (3.12) Greek art and architecture teacher refers to a photograph of the Acropolis, and map of Greece; c/u photographs of ancient Greek ceramics and architecture; girls write in Greek at the board (3.56) German folk-song travel and play-acting German teacher enters; short drama, performed in costume [arrival of St. Boniface?], girls writing at blackboard in b/ground ; pupils consult a map (5.17) Science work in the Laboratories girls examine stuffed birds; using a glass pipette to measure liquid; titration experiment; preparing a slide; distillation [pupil takes a sniff of distillate and makes a terrible face] (7.47) Pottery Making smocked pupils throw pots; decorating moulded pieces; emptying the kiln (9.02) Mime & Movement with the Seniors group dance (9.57) Choir Practice gvs mixed age choir singing (10.49) Lessons in Instrumental Music flute lesson; c/u fingering; piano lesson, c/u hands on keyboard; clarinet lesson; violin lesson (13.49) The Orchestra rehearses (14.25) Needlework hand sewing; using a Singer machine; ironing finished work; knitting (14.56) Laundry-work ironing; mangling [oof] (15.26) Examinations! gvs examinees sitting in assembly hall; c/u "Scottish Leaving Certificate" examination papers; c/u hand writes on board "May 1954 McBain Essay Competition" (16.11) Physical Training in the gymnasium class stretch and turn cartwheels; equipment is brought out; class take turns at front somersault; jumping over horse (18.13) The Playing Field at Hazelhead Set in ideal surroundings exts. netball; hurdles; rounders (20.24) girl clears high jump; gvs tennis (20.49) Junior Sports Day younger girl's races; sack races; skipping race; egg and spoon; c/u competitors (22.40) Senior Sports Day girls march past, one carrying banner "Jamesone" (23.08) races; relay race; bicycle control competition, a slow slalom (24.18) discus; families observing from sidelines; sprint; hockey control race (25.22) Guides and Brownies guides and brownies rush into shot, and assemble into groups in front of the camera; guides and brownies sing a song with hand actions (26.11) Miss ROSE, Headmistress consults the Prefects about end-of term activities Miss Rose rings a bell on her desk; prefects file in, gvs discussion (27.09) Rehearsals for the School Play Shakespeare's Love' s Labour's Lost dress rehearsal, girls are directed from the stands by teacher; views of dance and lines being spoken (28.31) Preparations for the Senior Girls' Dance removing baking from an oven; preparing pastries; c/u jellies; ingredients (29.25) decorating the hall with laburnum and foliage; brushing away debris; c/u tables decked with jellies, cakes and bottled fizzy drinks, Vimto etc. (30.17) Arts & Crafts Exhibition examples of ceramics, embroidery, upholstery, basket weaving, bag making; watercolour, dressmaking etc. (32.02) pupil demonstrates weaving tartan with a loom (32.24) The Senior Prize-Giving Miss B.M. Rose, M.A. L.L.D. presents her last report at the end of twenty-five years as headmistress Miss Rose presents her report from a flower decked podium, in academic dress; shot of audience of parents and pupils applauding; orchestra; choir (34.46) prize-giving; exts. School. Finis. (36.16)