TO CAMP IN THE CLOUDS: A HOLIDAY IN ARGYLL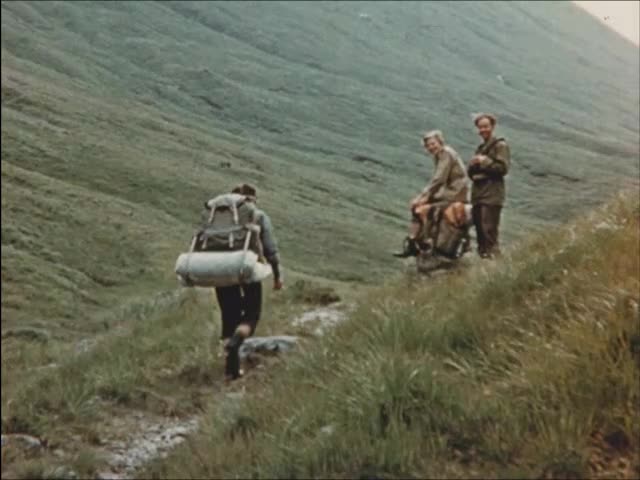 This video is not available to view remotely
Full length video - onsite only
Please read Understanding catalogue records for help interpreting this information and Using footage for more information about accessing this film.
Title: TO CAMP IN THE CLOUDS: A HOLIDAY IN ARGYLL
Reference number: 3081
Date: 1955
Director: [filmed by J.A.G. John Greaves]
Sound: silent
Original format: 16mm
Colour: col
Fiction: non-fiction
Running time: 15.28 mins
Description: Amid the scenery of the Argyll mountains, two young men and two girls climb, camp and cook their meals, relishing the freedom of a week's holiday in the open air.

Prize winning film at 1955 Scottish Amateur Film Festival. Winner of the Lizars Salver - for best film on Scotland and the Scottish Tourist Board Prize -£10.

Adjudicators comment -" This was an excellant film about camping in the Scottish Highlands without any attempt to glamorise it. It showed not only the pleasures of camping but also the washing up....Camera angles were well planned and care had been taken with continuity from shot to shot. Above all, the film lived up to its title because the impression of height was well achieved... Photography was notable and also the editing."

A copy of this film is preserved in the East Anglian Film Archive. Dated 1955 by EAFA.
Credits: produced by J.A.G. [John Greaves]
Shotlist: Titles (0.22) gvs Rannoch Moor (0.19) gvs hikers setting off and their journey across the moor for two days we had been walking across the Moor of Rannoch heading westward... (0.55) Visuals landscape (1.59) And so we came at last to the Allt Lairig Eilde, and beginning the ascent into the mountains (3.29) We pitched our tents near the head of the stream at 1600ft. And in the morning... gvs tents and campsite on mountain, sunny weather (4.18) eating lunch and drinking from a clear mountain stream. One of the boys slips in the mud, much to the amusement of his friends (7.00) the climb, scrambling on rock and spectacular views from the top of surrounding mountain peaks and landscape below (8.16) as the rain starts, the group put on waterproof clothes, descending the mountain slopes as the storm clouds loom above, shot of tents (9.49) preparing and eating breakfast at the campsite then cleaning dishes in clear stream (12.03) gvs mountain valley and landscape, some rock scrambling at summit (12.44) So the days passed by... soon a week had gone gvs landscape, tents (13.06) With three days left we took our tents higher . But before long... gvs foggy conditions (13.57) And then, on the last morning shot of tent nearly blowing away! gales move in (14.51) packing up tent (15.09) overhead view of the loch, silhouetted figures against the sky (15.28)