REST & BE THANKFUL; SPEED HILL CLIMB; ALSO TULIP RALLY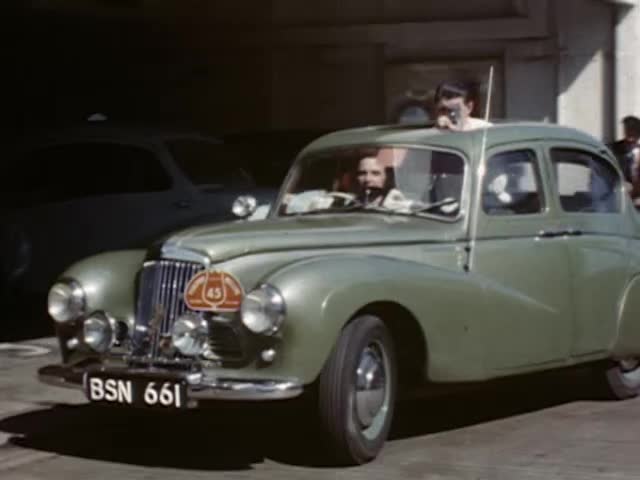 This video is not available to view remotely
Full length video - onsite only
Please read Understanding catalogue records for help interpreting this information and Using footage for more information about accessing this film.
Title: REST & BE THANKFUL; SPEED HILL CLIMB; ALSO TULIP RALLY
Reference number: 3714
Date: 1951
Sound: silent
Original format: 16mm
Colour: bwcol
Fiction: non-fiction
Running time: 15.34 mins
Description: Motor racing. Scenes of the tracks and of the ferries, includes views of the Rest and be Thankful pass in Argyll, and the 1951 Tulip Rally, held in the Netherlands.
Shotlist: [COL] Pan down a mountain. (0.08) Red Cross flag blowing in the wind. (0.16) Gv's of some nurses sitting outside on the grass beside a tent. (0.32) Line of parked cars, and a large van driving past them. (0.40) START banner sponsored by Autocar magazine. Driver in a green helmet, and another man below the start line. (0.43) Little green motor car speeds off into the mountains. (1.05) Pale blue car, possibly a Jaguar or a Lea Francis (?) drives up to the starting line.(1.24) C/u of the licence plate LSM 572. (1.25) View from rear of the car to the back of the driver's head. He is wearing a red helmet. (1.27) Pale blue car drives away. (1.33) Gv's of a red , then a white car at the starting line and driving away. (1.58) C/u of a dash board. (2.01) Gv of a yellow car speeding around hair pin corners and z bends. (2.33) Woman sitting on a boulder. (2.40) Gv of a red car speeding around hair pin corners and z bends. (2.49) Gv of the road leading up to the starting line. Various vans and cars can be seen parked at one side. The racing cars are started one at a time.(3.05) Gv of landscape. (3.11) C/u of men resting on the side of their cars, and of a car driving to the starting line. (3.23) Two nurses. (3.28) Gv of vehicles parked just off the road, such as an ESSO red lorry, and a green Regent Oil Company truck. (3.32) Blank space. (3.40) [B/W] Gv's of a family gathered in the driveway of a house around a Sunbeam Talbot 90 car with a badge no. 45 for the rally fixed to the bumper. (4.14) Gv's of the car parked on a busy road. (4.50) Bumper and badge of another car for the rally, no. 37. Tail bumper of rally car no. 26. (4.53) Gv of car no.45 parking alongside other entrants. Gv's of the other cars parked in various locations. (5.14) Ext. of the Prince of Wales Hotel. (5.28) View of a road. (5.30) [Col.] Gv's of the cars and rally badges of cars lined up outside an ESSO garage. Some of the drivers are asleep in the front seats. (7.19) Gv's of the ship - Shepperton Ferry at Dover, shot man standing before a sign "For Dunkerque" (7.45) Man standing on the pier. (7.56) Policeman talking to one of the car drivers. (8.01) Car driving onto the ship. Cars parked in little rows onboard; man filming, standing though sun-roof of car (8.38) Blank space. (8.50) [B/W] Car speeding around small pillars and reversing on a race track. Cars queuing for the starting line. (9.28) Gv's of the crowd, track, different national flags, and sponsors billboards, such as Philips and Skoda. (10.06) C/u of a car manoeuvring. (10.16) Gv of the crowd in the stand, and more of the sponsors billboards, such as Castrol and India Banden. (10.23) L/s of the cars lined around the track. (10.25) Gv of the view from a moving vehicle - windmill, cars, road, flat landscape. (10.37) [Col] Gv of a canal, old buildings, and tulip fields. (11.02) Two men beside car no 45. One man is lighting a cigarette. (11.12) Gv of the flat landscape dotted by houses, and of the one man filming another man with the car, before turning to cine the man making this film. (11.42) C/u of the tulip fields. (12.51) Gv's of a man holding pink and mauve hyacinths, kneeling in his? field of flowers. (13.11) Gv of the tulip fields and houses. (13.32) Gv's of the port at Rotterdam. Man waving at the camera out of a car, and a ship steaming out to sea. (14.19) Gv' s of the cars parked at the port. One car is badly smashed. (14.35) Officer inspecting the contents of a car boot. (14.42) Car with a string of flowers around the bonnet. (14.52) Gv of the cars at the pier. (15.08) Gv of the ferry "Koningin Emma" at dock and a car being hoisted onboard. (15.34)