HIGHLAND FUND IN ACTION, HIGHLAND INITIATIVE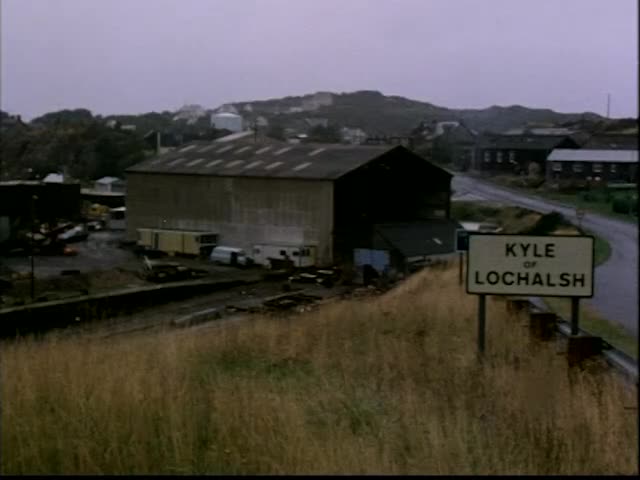 This video is not available to view remotely
Full length video - onsite only
Please read Understanding catalogue records for help interpreting this information and Using footage for more information about accessing this film.
Title: HIGHLAND FUND IN ACTION, HIGHLAND INITIATIVE
Reference number: 2278
Date: 1981
Director: [d. Calum Ferguson]
Production company: [ Glasgow and Strathclyde Universities A-V Services]
Sound: silent
Original format: 16mm
Colour: col
Fiction: non-fiction
Running time: 28.34 mins
Description: Unedited rushes of a tape/slide production, they include footage of McLean's marine repair yard in Kyle of Lochalsh, a cheese factory, and crofting scenes in Wester Ross.

[See also N0628]
Credits: ph. Jim Harold
Shotlist: No credits. Three men on pier looking at equipment [on the right in close-up is Alec MacLean]. Signpost and visuals of Kyle of Lochalsh with McLean's marine repair yard in the background (1.54); Dingwall. General views of the interior of the Highland fine cheese factory as women roll and pack Caboc cheese and tubs of low fat cheese. General views of machinery and production line. Exterior of the factory (6.50); Reggie and Mrs Stone, proprietor of the cheese factory inside family home (10.40); Caledonian MacBrayne steamer "Suilven" arrives at pier. General views of village of Ullapool and seafront. Roderick MacKenzie arrives at his house in Ullapool, built with the aid of the fund (13.00); Shepherd Kenny MacLennan [folklorist] and flock in farmyard; c/u collie (15.40); Archiltirvie croft (15.50); Tracking shot from car on country road in Wester Ross (17.20); Landscape. Coastal scenes in the Summer Isles. Crofting scenes (18.50); Exteriors and interiors of Badachro post office, postman arrives in van (22.00); Tracking shot of landscape from car (24.01); Ewan and Mrs McKenzie outside house at Applecross. Ewan rows out to fishing boat BRD 149 at anchor at Applecross (27.02); Views of Marine repair yard [as opening sequence], man welding (28.00).