SCENES AROUND HALFWAY AND DISTRICT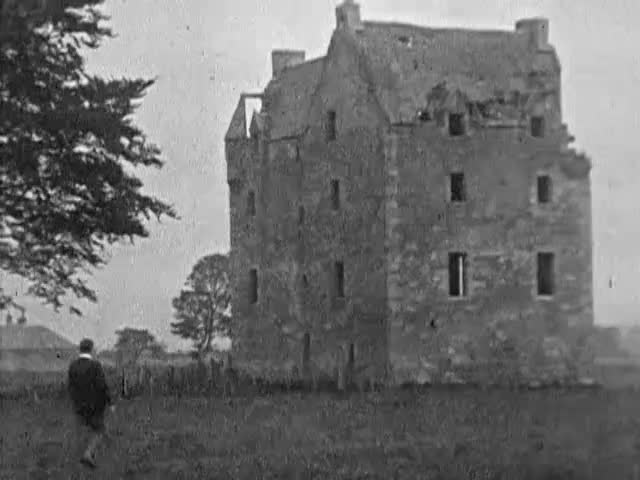 This video is not available to view remotely
Full length video - onsite only
Please read Understanding catalogue records for help interpreting this information and Using footage for more information about accessing this film.
Title: SCENES AROUND HALFWAY AND DISTRICT
Reference number: 2189
Date: 1933
Director: [filmed by James Blair]
Sound: silent
Original format: 9.5mm + 16mm
Colour: bw
Fiction: non-fiction
Running time: 18.26 mins
Description: Places and events in and around the Lanarkshire village of Halfway, including street scenes, the tram terminus, construction of council housing, an amateur dramatic club production and a wedding.
Shotlist: REEL 1 (16 mm)

No credits. Street scenes. Hamilton road, Halfway, looking west (.07); Lightburn Roads between Halfway and Flemington looking west (.12); Country Roads around Tansy Knowe (.36); Ruined building and church (.45); By Cambuslang tram terminus at Old Toll House at bottom of Croft Road, Halfway (.50); Railway bridges over Hamilton Road between Cambuslang and Halfway (.58); - Blank - (1.02); Shots from top of Brandy bing down to new houses then across to Hallside steel works [Steel Co of Scotland] (1.10); Then to Hallside School and houses (1.18); Pit bing east of Flemington and council houses under construction in the foreground (1.22); Pit bing and village of Flemington (1.25); New houses (1.30); Street scenes. Lightburn Road, Halfway (1.33); Gateside colliery and bing, housing in Deans district in the foreground (1.35).

REEL 2 (9.5mm)

No credits. Gv's Hamilton race course, sideshow entertainer. Scenes from Helensburgh to Balloch walking tour. Brief shot Helensburgh. Paddle steamer leaving. Shot of road over to Balloch. Loch Lomond. Steamer on loch - marina. Steamer on loch. Inversnaid falls c4.00. Scenery 4.40 Shots from train en route to Mallaig (c 6.00) Gv's fishing boats (Buckie & Inverness registered in harbour (Mallaig!). Good shots from high down to piles of barrels and fisherlassies gutting (c 5.00)

REEL 3 (9.5mm)

No credits. Cambuslang public park and War Memorial. People playing tennis, shots of family. Brief shots of Halfway streets. "Under Clover Moon", an amateur dramatic club production. Wedding, c1930s (approx 200 ft).