HOLIDAY SCOTLAND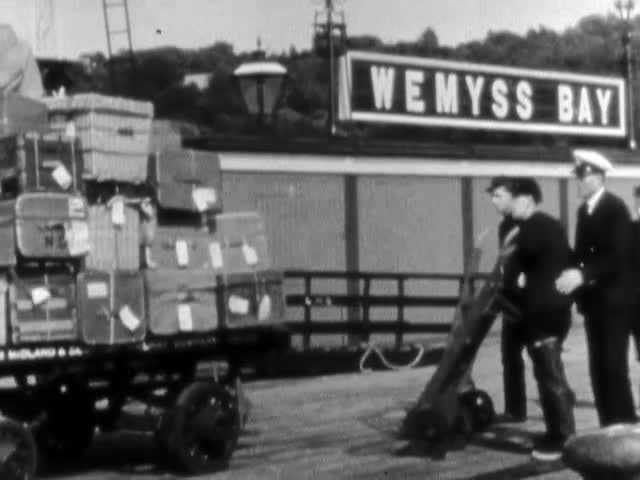 This video is not available to view remotely
Full length video - onsite only
Please read Understanding catalogue records for help interpreting this information and Using footage for more information about accessing this film.
Title: HOLIDAY SCOTLAND
Reference number: 1581
Date: 1930c
Sound: silent
Colour: bw
Fiction: non-fiction
Running time: 14.17 mins
Description: A compilation of scenes from various holiday areas in Scotland including Edinburgh, Glasgow, Rothesay, Wemyss Bay, The Trossachs and Loch Lomond.

One of a series of travelogues - title missing, thus unable to identify.
Shotlist: [title missing] Edinburgh. The Scottish capital is considered one of the world's most beautiful cities. (0.07) gvs Princes Street gardens. Gardener at work on floral clock (0.28) Princes Street has been described as the finest street in Europe. gvs Princes Street (0.44) The castle, built on solid rock, dominates the whole city. gvs castle esplanade, and sentry at the gate (1.14) The history of the castle is a long one and guides conduct interesting tours of the buildings. Shots of a small party of visitors (1.19) Close by is the half moon battery which fires the one o'clock time gun. Shots of a gunner firing the time gun, a large pendulum clock next to gun shows one o'clock (2.01) Glasgow, centre of Scotland. A city of fine buildings and wide streets. Aerial shots of the city and of George Square (2.20) The Broomielaw and King George V bridge. Shot across the River Clyde to a steamer tied up at the Broomielaw. Pan around to the bridge (2.38) shots of traffic crossing the bridge (2.44) The historic Clyde is world famous for its shipbuilding activities. gvs cranes and shipyards from the river. Shots of unidentified liner passing down river (3.41) In close proximity to some of the finest scenery in the British Isles, Glasgow is a convenient centre from which to explore the Clyde Coast. gvs paddle steamer in the Firth of Clyde. Shots from the vessel (4.29) The LMS Clyde Coast services comprise many fine vessels such as the "Caledonia" and "Mercury". Profiles of same (4.56) Overlooking Loch Striven is Rothesay, a popular and attractive resort, where abundant choice of accommodation will be found. Shots from the paddle steamer approaching Rothesay pier (5.29) Shots of the vessel tying up and passengers disembarking (6.14) Most of the steamboat services call at Rothesay pier which in the season is a busy place. gvs esplanade and beach at Rothesay (6.41) For longer cruises the turbine steamers "Duchess of Montrose" and "Duchess of Argyle" offer every comfort and convenience. Shots of both vessels at Rothesay (7.13) For holidaymakers desiring quick communication with Clyde resorts, many train services proceed direct to Wemyss Bay. Passengers boarding steamer at Wemyss Bay. Shots as wagon loads of luggage are loaded on board (8.10) shots of paddle steamer reversing away from the pier and then putting out to was (8.53) Within easy reach of Glasgow is the famous Trossachs tour. A short train journey takes the visitor to Balloch - the starting place of the Loch Lomond steamers. Shots of two loch steamers tied up at Balloch pier (9.18) Shots as passengers walk past the train down to the pier to board the steamers (9.36) The traditional beauty of Loch Lomond has not been overstated. gvs Loch Lomond scenery (10.25) As the journey proceeds, the sylvan charm and rugged beauty of the mountains is unfolded. Shots from the steamer of the passing scenery (10.56) Ben Lomond (3,192 feet). Shot of Ben Lomond from the steamer (11.07) Intermediate calls are made by the steamer at a number of places suitable for delightful rambles and excursions. Shots of ramblers leaving the steamer. Ext. Tarbet Hotel and pier as vessel ties up. Passengers disembark. gvs deck of steamer as it pulls away (12.31) shots of Inversnaid and the falls (12.59) a horse-drawn charabanc with a party of visitors leaves from Inversnaid Hotel (13.14) Loch Katrine is probably the prettiest of the smaller lochs and the journey by steamboat enables the visitor to appreciate its beauty fully. Shot of steamer at pier and shots as passengers disembark (13.49) gvs scenery. shot of unidentified castle and piper (14.14) The End (14.17)