FILM OF MONIAIVE 1950 - 1955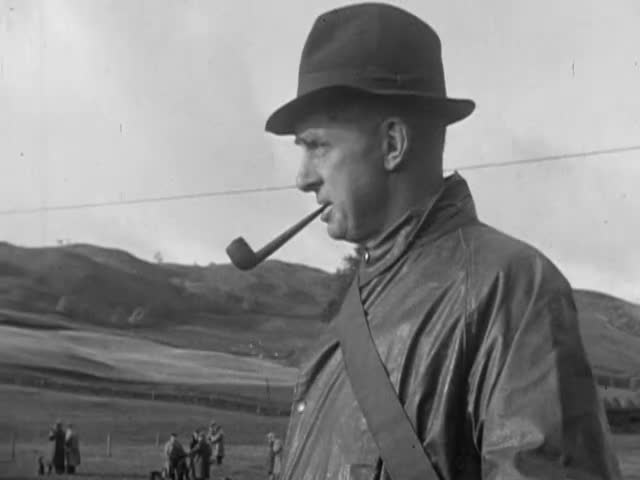 This video is not available to view remotely
Full length video - onsite only
Please read Understanding catalogue records for help interpreting this information and Using footage for more information about accessing this film.
Title: FILM OF MONIAIVE 1950 - 1955
Reference number: 1874
Date: 1950
Director: [filmed by W.E. Richardson]
Sound: silent
Original format: 16mm
Colour: bw
Fiction: non-fiction
Running time: 13.14 mins
Description: A children's parade, sheep dog trials, a local football match and a dinner dance in Moniaive, Dumfriesshire.
Shotlist: No credits. Shots of children's parade through streets (0.46) including shots of sports day activities, sack race, women's foot race, men's long jump. (2.07); Shots of activity in street, ms people smiling at camera, including older man carrying bunches of pansies (2.27) shot of fairground merry-go-round [under-exposed] (2.45); ls of farm workers in fields (3.05) pan over men having tea, sitting under dry stane dyke; further shots stacking hay onto a cart (3.27) close shots men stacking hay in a stook (3.45); ls of village from roadside showing church; ms large private house, groups of women being greeted on the drive (4.34); pan over fields; gvs Sheep dog trials (4.54); Shots of schoolchildren walking from school to church with their teachers. Shots inside of prize giving in the church [underexposed]; children walk out, some holding books (6.10); man and girl cycle down country lane (6.22) Shots of local football match (7.20); Shots of private buses driving through small streets, passengers waving [visitors?]; people dispersing into streets, a few are eating ice cream (7.56); ls man prodding fire with a stick, second extinguishes it with a pail of water (8.13) two girls playing in a garden (8.36) street scene, groups of men stand around outside Maxwell & Cranstoun the grocers and grain merchants (8.50) children's playground (9.32); ls family walk away, along a country road, turn to look at camera (10.09) ints. dance, shots of dance band and dancing couples (11.18) ints. timber being processed in a sawmill [oof] (11.42) shot of farmer ploughing field [oof] (12.08) man and boy hurry to van and drive off; gvs as they fix phone lines [badly shrunk and out-of-focus] (12.50) ms two men throw heavy branches onto a pile (13.00) c/u boy drinking tea and eating (13.04) exts. men stand and talk in the street (13.14)