NETHERTON'S CORONATION DAY PROCESSION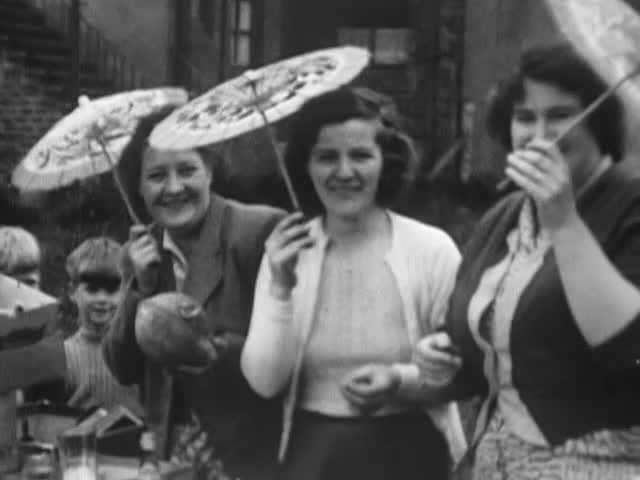 This video is not available to view remotely
Full length video - onsite only
Please read Understanding catalogue records for help interpreting this information and Using footage for more information about accessing this film.
Title: NETHERTON'S CORONATION DAY PROCESSION
Reference number: 0946
Date: 1953
Original format: 9.5mm
Colour: bw
Fiction: non-fiction
Running time: 25.50 mins
Description: Netherton's Coronation Day Procession on 2 June 1953. Featuring the opening of a community hall, a sale of work, an outing to Girvan and a carnival.
Shotlist: Credits (.03); Brief shot of procession through street (.05); Netherton and Clydesdale Old Folks Reunion Committee. Opening of Hall May 28 1954. Shot of committee outside hall, door is opened and they enter (.42); Ayr and Prestwick June 12 1954. Shot of three coaches in street, old folk are helped out of bus (1.32); General views on the prom at Ayr with members of the party on the beach and more getting off the bus. More beach scenes as old folk relax (2.50); Sale of work and carnival, September 18 1954. Shots of gathering addressed by several speakers (3.34); Banner welcoming people to Netherdale Hall (3.42); Demonstration of dog handling. Shots of audience and various stalls at the carnival (4.37); 2nd Annual outing, Girvan June 11 1955. Old people pose for group shot, buses move off (5.13); Shots from bus on road through countryside (5.27); General views of members of outing in Girvan streets (6.30); Yacht and fishing vessels in Girvan harbour (6.46); Shots of party in streets (8.56); Netherdale Hall "Women's Hour" members June 1955. Shots of women outside hall (9.29); Male speaker addresses assembled crowd and they file in out of the rain (9.56); Outing to Kirkcaldy 9 June 1956. Buses line up (10.17); Shots from bus on road (10.23); General views of members of party in streets and on seafront at Kirkcaldy (13.37); Shot of buses lined up (13.57); More shots of party on seafront and in town streets (14.48); Sale of work and carnival, 23 June 1956. Opening by Mrs A Barr, Motherwell. Some personalities of the day. Mrs Barr addresses assembled crowd and opens sale of work (15.34); General views carnival stalls and participants, hoopla, roll the penny, shooting range, donkey rides, etc. (18.15); Vintage cars in Netherton (?) streets (18.48); Buses lined up (19.00); Man feeds a sheep and others join him from bus which has stopped at side of road (19.20); General views old people on outing to Dumfries and shots of city streets (21.01); Further shots "Women's Hour" sequence above (21.29); Lady speaker follows (21.43); Boxing match in open air ring (22.01); [Over-exposed] Men look at drawings or plans (22.20); Old folks on outing (23.28) Lady speaker addresses crowd (24.02); Mothers and babies at competition, judging takes place (25.05); Shots of table and silverware. Girl tries her hand at coconut shy (26.16); Miniature steam train carries people along rails (25.24); Shots of watchers from train (25.50); The End (25.53)