BISCUIT FACTORY AND WEDDING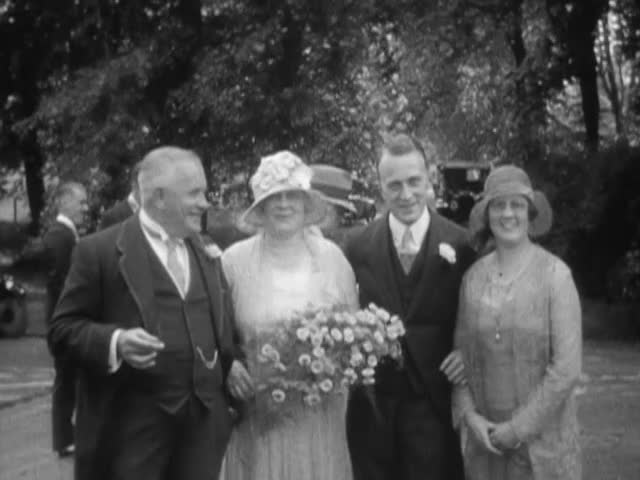 This video is not available to view remotely
Full length video - onsite only
Please read Understanding catalogue records for help interpreting this information and Using footage for more information about accessing this film.
Title: BISCUIT FACTORY AND WEDDING
Reference number: 1649
Date: 1930 - 1933*
Sound: silent
Original format: 16mm
Colour: bw
Fiction: non-fiction
Running time: 10.00 mins
Description: Beginning with street scenes abroad taken during a holiday cruise, then interiors of a biscuit factory as dough is mixed for custard creams and chocolate biscuits. This film then shows a society wedding where the ceremony takes place under oak trees in the grounds of a large house.
Shotlist: [This film actually runs at 18fps but has been shotlisted at 24fps. Total running time at 18fps = 11.25 mins]

No credits. [*1932] Shot of the sea (0.02); Shot of ships' flags (0.08); Men jumping into swimming pool on board a liner, pulling on pyjamas? (0.20); passengers sleeping on deck (0.24); street shots of a city in the Middle East and general views of people and a market place (1.41); Shots of a knife sharpener (1.48); Street scenes (2.05); Travelling up in a lift, possibly a cable car, of iron construction (similar to the Eiffel Tower). View over the harbour with ships and liners, panning over the city (2.33); Travelling in a cable car (2.46); View of the city (2.51); [*1933] Interiors of a biscuit factory as dough is mixed (3.14); Shaping in a biscuit press (3.30); General shots of the workers (3.43); Biscuit conveyor belt (4.25); Packing the biscuits in tin boxes (4.53); Producing custard creams (5.37); Production of chocolate biscuits (6.20); [*1930] Society wedding in the grounds of a large house. Bridal party and minister exit from house into garden (6.40); The wedding ceremony takes place under oak trees with a marquee in the background (7.02); Shots as the newly married couple sign the register (7.14); Cutting wedding cake (7.25 - 7.30): Shots of the guests (7.54); Shots of couple's wedding presents (8.13); Shot of marquee and guests seated (8.25); Shot of either the bride or groom's mother with a page boy (8.31)