SCOTTISH DAILY NEWS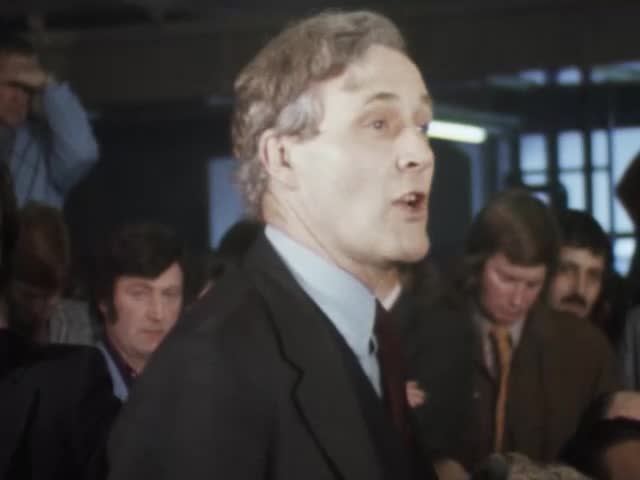 This video is not available to view remotely
Full length video - onsite only
Please read Understanding catalogue records for help interpreting this information and Using footage for more information about accessing this film.
Title: SCOTTISH DAILY NEWS
Reference number: 1327
Date: 1974 - 1975
Director: filmed by Norman Pollock
Sound: sound
Original format: 16mm
Colour: col
Fiction: non-fiction
Running time: 32.47 mins
Description: The story of the Scottish Daily News from the closure of the Scottish Daily Express to the last run of the Scottish Daily News.

A prize-winning film at the Scottish Amateur Film Festival, 1976 where it won the Michael Balcon Trophy - for the best documentary.

See also ref. 3868.
Credits: sd. Edwin Bonner, Colin McNab
dubbing mixer Colin Gilchrist
comm. Laurie Ventre
processing Humphries Labs., Glasgow
Shotlist: Page of Scottish Daily News, November 1975 (.14); "Save the News" rally in Glasgow (1.00); General views marchers and speakers - including Nathan Goldberg (?) (2.11); Montage sequence (2.24); Photo of Jocelyn Stevens of Daily Express (2.54); Page of the last Daily Express to be printed in Scotland, 31 March 1974. (3.16); Allister Mackie and Action Committee at public meeting. General views Albion Street and Portakabin used by Workers Committee sited opposite Express building. Shots Committee meetings (5.07); Feasibility study pages (5.34); Robert Maxwell (5.53); General views Albion Street premises, pages of opposition newspapers (6.24); Interview Allister Mackie (6.55); Pages of special broadsheet for Scottish Daily News (7.10); Still of SDN contingent to TUC congress (7.30); Interview with Mackie continued (8.10); Compositor Norrie Montgomery in garden [v/o int.] (9.29); General views Albion Street Express office. Interview with Mackie (10.03); Mass meeting inside City Hall. Graphics of financial situation. Shots meeting continued (10.50); Fred Sillito, new editor of SDN, Maxwell and colleagues. (11.15); Shots idle presses and exterior of building in Albion Street (11.40); Shots meeting of Allister Mackie and workers (12.12); Train on line as it heads south. Shots inside of SDN contingent to Whitehall (12.55); Big Ben. March to House of Commons. General views of exterior of building as the marchers wait outside (14.30); Prospectus for new Scottish News Enterprises Limited (14.48); Interview with Denny McGhee of Action Committee in Albion Street (15.38); Shots of SDN workers trying to sell shares in new company. Counting money raised from public and private interest. Interview with Denny McGhee continued (17.11); Film units in Action Committee hut (18.00); Members of workforce wait outside as deadline for raising necessary cash approaches (18.25); Shot Robert Maxwell inside hut with Committee (19.11); Robert Maxwell hands over cheque to Action Committee (19.40); Shots Tony Benn visiting Albion Street plant at opening of SDN (23.22); General views workforce restoring printing machinery to running order. Views of printing processes during dummy runs (23.40); Tony Benn and other dignitaries visit plant to see first edition being printed. Party includes Robert Maxwell. General views of production. First paper comes off presses (28.57); Pages from paper and its rivals (29.50); Exterior Daily Record building at Anderston (30.00); New tabloid size edition of SDN (30.10); Interview with Allister Mackie re Maxwell's chairmanship (30.22); Alastair Blyth, new chairman (30.50); Maxwell's resignation. Shot of article in Sunday Times (31.13); New editor Nathan Goldberg (31.28); Page of SDN October 1975 after liquidator called in (31.48); "Save the News" rally. Jimmy Reid addresses crowd. March in streets of Glasgow (32.48); Norrie Montgomery typesets last page (32.58); Last run comes off the presses. Shots plant by night (33.51); ecs (34.00)