STEAM LOCOMOTIVES IN SCOTLAND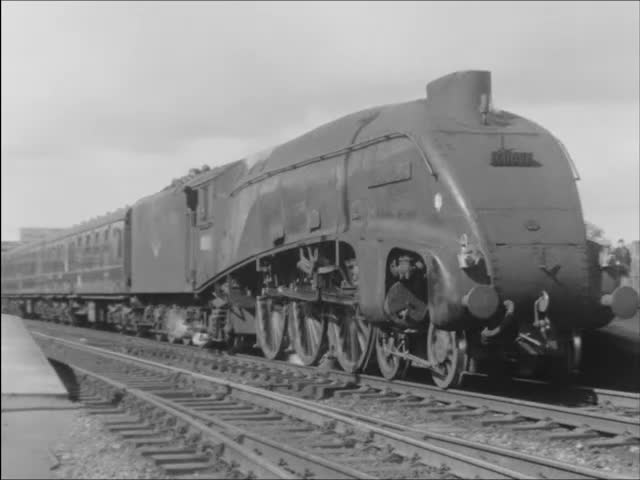 This video is not available to view remotely
Full length video - onsite only
Please read Understanding catalogue records for help interpreting this information and Using footage for more information about accessing this film.
Title: STEAM LOCOMOTIVES IN SCOTLAND
Reference number: 1323
Date: 1963c
Director: filmed by Norman Pollock
Sound: silent
Original format: 16mm
Colour: bw
Fiction: non-fiction
Running time: 16.43 mins
Description: Various shots of steam locomotives and railway stations in Scotland.

Please note there is a slight discrepancy in timing between the shotlist and the digitised video viewing copy.
Shotlist: No credits. Shots of steam locomotive no. 45423 on line (.08); Unidentified steam locomotive passes (.18); Shots of engine nos. 60007, 73145 and 60027 (.52); no. 60034 reversing and shot of no. 60027 (1.06); Shots of Stirling railway station. "The Golder Plover", no. 60031 steams out (1.29); "The Clan Stewart" no. 72009 and locomotive no. 72008 (2.01); "The Lord Faringdon" no. 60034 (2.29); - Blank - (5.40); Shots of Motherwell railway station. General views of locomotives, no. 46245 building up steam and heading out (4.26); no. 60530 the "Sayajirao" (3.10); no. 45128. General views no. 70039 outside the station (5.47); [Out of focus] (5.53); General views of no. 45627 (6.05); Unidentified locomotive (6.28); - Blank - (7.12); Shot of Coatbridge from railway station. General views of station building as no. 60195 (?) steams through (7.29); Shots at a racecourse, possibly Lanark. General views of jockeys and mounts, scenes in paddock and on racecourse (9.00); Shots of locomotive no 46250 pulling out of Central Station, Glasgow (9.26); Steam locomotive on line in country. Shot from train (9.46); Long shot across to country line as train passes (10.01); - Blank - (10.28); [Underexposed] (10.39); Shot of departure board, Aberdeen railway station (10.42); "The Bittern" no. 60019 pulls out of Aberdeen, goods train (11.13); no. 44705 pulls out, shots from train of buildings along the line (11.37); Shots from train of countryside (11.54); Shots of unidentified locomotives at Stirling station, no. 45396 passes through followed by no 60007 "Sir Nigel Gresley" (12.19); Shots of locomotive taking on water (12.27); No. 60007 pulls out (12.39); No 60010 with full head of steam on line. No 60007 at platform, pulls out. Shot of locomotive no. 60010 in siding. General views of locomotives being shunted? (13.18); - Blank - (13.59); Arrival at unidentified station of no. 60005 and pan across to no. 60034 as it pulls out (14.30); Shots of engine on line. General views of locomotives (14.50); No. 60006 reversing (14.57); "Union of South Africa" no. 60009 at platform (15.08); Shots of locomotive no. 61102 pulling out (15.19); No. 60009 stationary at platform and then pulling out (16.03); General views of locomotives entering the station (16.33); General views of locomotives at platform (16.43)