HIRAM'S HOLIDAY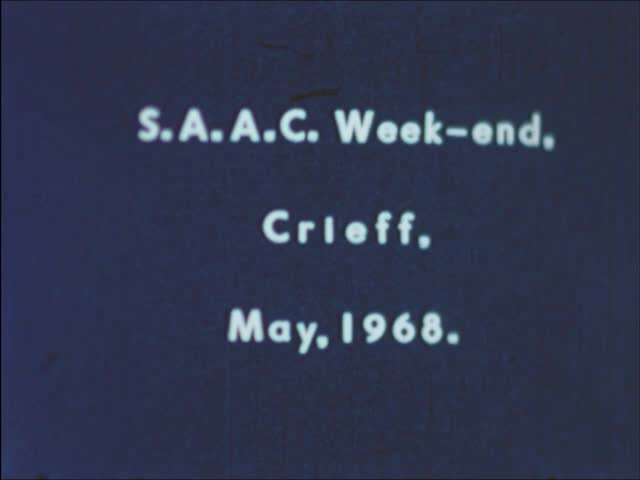 This video is not available to view remotely
Full length video - onsite only
Please read Understanding catalogue records for help interpreting this information and Using footage for more information about accessing this film.
Title: HIRAM'S HOLIDAY
Reference number: 10469
Date: 1968
Director: filmed by Norman T. Speirs, Willie Murdoch
Sound: sound
Original format: std. 8mm
Colour: col
Fiction: fiction
Running time: 10.01 mins
Description: Amateur comedy about an American tourist whose wallet is stolen, and he has to work in the hotel to pay for his stay.

This film is a group production filmed by Scottish Association of Amateur Cinematographers members at their annual Crieff weekend.
Credits: lighting Frank Marshall
script Averil Murdoch
cast John Smith, Hiram; Bill Sheppard, porter; Frank Marshall, manager; guests and staff with 'Petite'
Shotlist: SAAC WEEKEND CRIEFF MAY 1968 - title - credits - Orchestra music plays as a sign for Crieff is shown. Shots of a car driving and arriving at the Hydro hotel. The man bring in this bag and checks in at the reception. A porter helps the man with his bags to the room. GVs over Crieff from the window. Shots of the man with his cine-camera making his way to the dining room. With another man he greets women and sits down. Shots of the group leaving the hotel. Shots of a boy on horseback and the man filming the boy. Shots of the man filming children playing on swings. Shots of guests in a dining room and doing ballroom and Scottish country dancing. The guests leave the ballroom and the man returns to his room, leaving his shoes outside to be polished. The man collects his shoes, gets ready and goes down to meet people. He goes to the reception desk, and appears to have lost his wallet - he makes a phone call and meets the hotel manager. The man collects his bags and returns back upstairs to the staff area (to work off the cost of his stay). Shots of the man in the staff area getting changed into a staff uniform. The man then is shown with stacks of plates and serving as a waiter. Shots of a clock and the man stacking water glasses. Shots of the man back in the staff quarters. The man sees a dog with his wallet. The man returns back down stairs and waves goodbye and leaves. THE END