CARNOUSTIE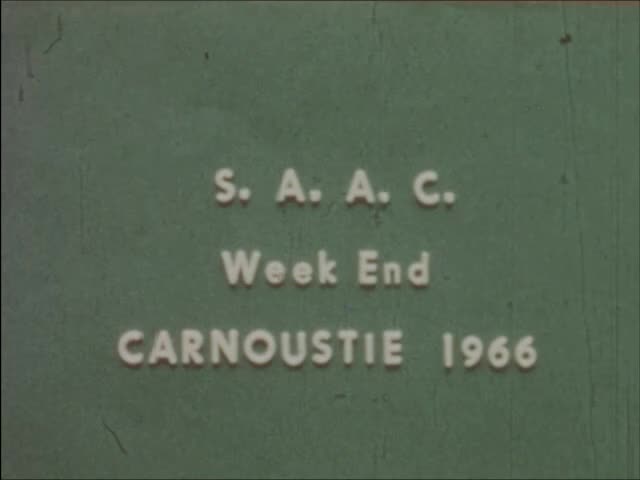 This video is not available to view remotely
Full length video - onsite only
Please read Understanding catalogue records for help interpreting this information and Using footage for more information about accessing this film.
Title: CARNOUSTIE
Reference number: 10468
Date: 1966
Director: filmed by members of Scottish Association of Amateur Cinematographers
Sound: sound
Original format: std. 8mm
Colour: col
Fiction: non-fiction
Running time: 7.58 mins
Description: Amateur film about a wet weekend in Carnoustie for members of the Scottish Association of Amateur Cinematographers, with a poetic accompaniment.
Credits: camera sequences A. Murdoch, W. Murdoch, J.A.R. Smith
commentary A . Murdoch with the co-operation of N. McGavin, C.E. Marshall, N.P. McGavin, M. Smith, R. Dobson, E. Wight
Shotlist: SAAC WEEK END - CARNOUSTIE 1966 - CAMERA SEQUENCES - A. MURDOCH, W. MURDOCH, J.A.R. SMITH - COMMENTARY A. MURDOCH - WITH THE CO-OPERATION OF N. Mc GAVIN, C.E. MARSHALL, N.P. McGAVIN, M. SMITH, R. DOBSON, E. WIGHT - THE TALE OF A FILM GROUP'S REACTION TO 'IMPOSSIBLE' WEATHER - Shots of a newspaper with the headline 'The Big Easter Damper'. Shots of a sign for Carnoustie. Shots from around the street and people walking in the rain. The narrator talks about the different umbrellas and the deserted golf course. Shots of the 19th Hole pub and the rough looking sea. Shots of the film makers in the rain as the narrator talks about how their weekend plans have been ruined. Panning shots next to the beach and shots for a sign for Antiques. Shots of the people walking about the shops the narrator describes the contents of the shop. Shots of a display case and the people walking around and looking at the art and furniture on display. Shots of the people leaving. GV Bruce Hotel and shots of a Highland dancing display. Close ups of the footwork. THE END - Shots of a trophy.