FAMILY HOLIDAYS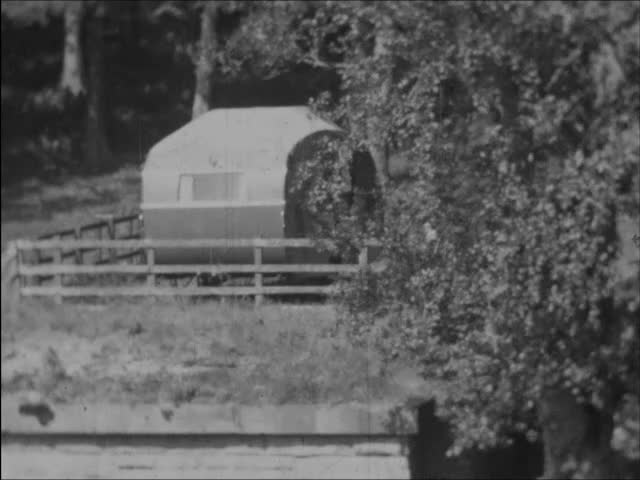 This video is not available to view remotely
Full length video - onsite only
Please read Understanding catalogue records for help interpreting this information and Using footage for more information about accessing this film.
Title: FAMILY HOLIDAYS
Reference number: 10058
Date: 1947c
Sound: silent
Original format: 9.5mm
Colour: bw
Fiction: non-fiction
Running time: 25.25 mins
Description: Amateur footage of family holidays in the Borders and at the seaside and a sports day.

See also ref. 10059 for the other film in this collection.
Shotlist: Sports day, boys and girls running races. A pipe band marches past; a woman is shown holding her toddler; more races; a girl plays on a chute, children play with their dogs. A man and a boy rowing on a loch; church fete, people gathered around stalls. Women browsing stalls and picking up fabric for sale. Family in the gardens of a country house; women in the garden trimming rose bushes. Boys playing with a hoop and stick HAPPY MEMORIES - YETHOLM - boys play at horses and carriages in the countryside. GVs town street, car and caravan parked. FLOORS CASTLE - panning shot of the castle and grounds - OUR 'SITE' - STOBO - ON THE BANKS OF THE TWEED - shots of the family's caravan, landscape and a woman and two boys walking - THE GATESMASHER - THE HILLS TOWARDS BROUGHTON - landscape and the caravan parked with car on a road - KELSO - landscape, town and Floors Castle - A WEEK-END AT DUNOON - children in a play park; boys play on the chute; mother and boys play on a long swing before the father also has a go on the swing with the boys. Boys exploring rock pools on the beach; panning shots of the landscape and harbour. One boy is shown playing with a lobster. GVs Dunbar harbour, coastline and shore, boy playing on beach. Model boats sailing in the water, mother and boys on beach. OUR MOVIES - gvs outdoor swimming pool, people diving in and sliding down chute into water.