CARAVAN FILM. CRAIGELLACHIE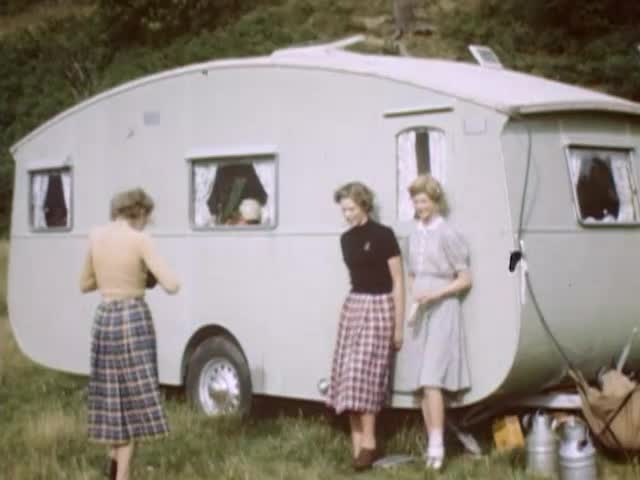 This video is not available to view remotely
Full length video - onsite only
Please read Understanding catalogue records for help interpreting this information and Using footage for more information about accessing this film.
Title: CARAVAN FILM. CRAIGELLACHIE
Reference number: 3414
Date: 1949*
Director: filmed by Mr. Murray
Sound: silent
Original format: 16mm
Colour: bwcol
Fiction: non-fiction
Running time: 11.30 mins
Description: A family caravan holiday near Craigellachie, and footage of a caravan rally.
Shotlist: [COL. Kodachrome] group of people having a picnic beside caravan. Children playing a game of catch (2.08) [BW] family in and outside caravan with Pekinese dog (3.10) ext. of Fiddichside Inn; men and women working on an allotment; and shot of railway porters at Craigellachie station (3.37) family leave house and get into a car, playing to camera (4.03) footage of caravan park (5.08) girl walking over rooftop structure; sitting with a terrier (5.49) van crossing Craigellachie bridge (4.50) brief shots of speeches, and group photograph being taken by flagpole [flying Saltire with letters SCC] (7.22) group emerge from caravan one holding Pekinese; shots of with caravans driven into caravan park; gvs caravans and groups chatting (10.11) caravan owners seated in a large group near to the flag; individuals are presented with prizes (13.52) general shots of caravan park; pan over adjoining golf course (15.25)