AUSTRALIA AND NEW ZEALAND, OCTOBER 1961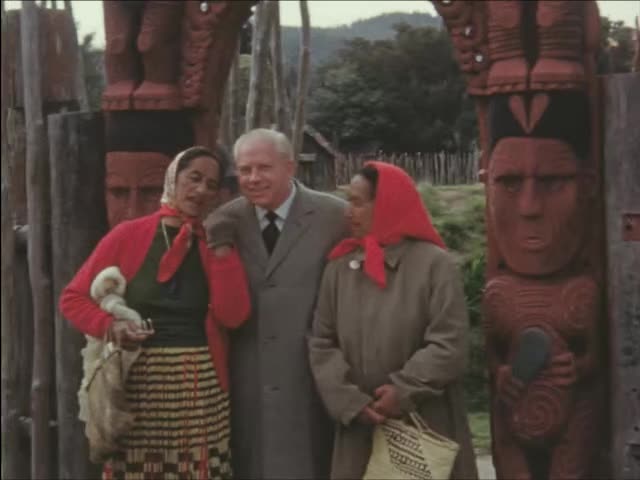 This video is not available to view remotely
Full length video - onsite only
Please read Understanding catalogue records for help interpreting this information and Using footage for more information about accessing this film.
Title: AUSTRALIA AND NEW ZEALAND, OCTOBER 1961
Reference number: 10040
Date: 1961
Director: filmed by Robert Sibbald
Sound: silent
Original format: 16mm
Colour: col
Fiction: non-fiction
Running time: 9.48 mins
Description: Amateur footage of a travel agents' trip to Australia and New Zealand, including visits to Sydney, Auckland, Whakarewarewa thermal reserve at Rotorua and Mount Cook.

Film maker was the Edinburgh based travel agent Robert Sibbald. Sibbald Travel Agents operated for 50 years from 1947. The films show the film maker's travels abroad researching holiday destinations and cruises. The film maker's grandson believes Sibbald took most of the films in order to give talks to various bodies to get business for the travel agency. Sibbald did a lot of work in ski resorts in Europe and he organised the travel for the Scottish curling teams both for holidays and competitions.
Shotlist: [no title] - pan across bay and built-up area in Sydney, Australia - gvs beach and sunbathers on sunny day - panning shots in park to Sydney Harbour Bridge - gvs park, bushes in blossom, flower-beds (1.47) tracking shots from bus going across Sydney Harbour Bridge, along shopping street - group of men beside bus, group of women approach - brief tracking shots through residential area - group of men sight-seeing at small beach - young boys surfing - brief tracking shots approaching harbour bridge (3.49) shots of group of men boarding Edwards Motors White Star Vistaliner coach on street, coach marked 'Tourist Bureau Tour', probably Auckland, New Zealand - gvs Auckland Harbour Bridge - gvs men on tour climbing over fence at pier, then gathered at floral clock in park - high shots of suburban area from Mount Eden - brief shots of men taking photographs of wedding party on lawn - gvs pier and small lake (5.35) man and Maori women standing at carved gateway at Whakarewarewa Thermal Reserve - gvs valley with thermal springs - Guide Rangi talks to tour party - gvs tourists on bridge over springs, geysers - shots of people entering gateway to Whakarewarewa reserve - Maori children playing in water - pan across meeting house at reserve (7.28) gvs small aircraft taxiing on airfield - man at water's edge, fish leaping out of water - well-dressed men and women walking towards camera - gvs sheep in field (8.22) gv roadside in country, snow-covered mountains in distance - gvs tour bus marked 'Mount Cook and Southern Lakes Tourist Co. Ltd.' - gvs mountains and lake, tour party and Bedford buses, snow layers, men setting off hiking with walking sticks - pan across mountains and snow - party of hikers setting off uphill (9.48)