COASTS OF CLYDE, the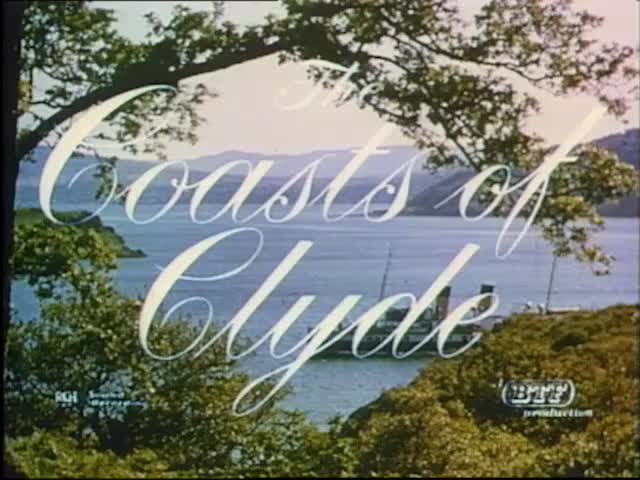 This video is not available to view remotely
Video 1

(currently displayed video)

Full length video - full length available onsite

A trip on the steamer from Wemyss Bay station to Largs and Millport. (clip)

A steamer trip to Dunoon and the Cowal Highland Games, then on to Rothesay, the Kyles of Bute, Loch Long and Loch Lomond. (clip)

A steamer trip 'Doon the Watter', shots inside a bakery and a visit to Arran. (clip)
Please read Understanding catalogue records for help interpreting this information and Using footage for more information about accessing this film.
Title: COASTS OF CLYDE, the
Reference number: 0797
Date: 1959
Director: d. James Ritchie
Production company: British Transport Films
Sound: sound
Original format: 35mm
Colour: col
Fiction: non-fiction
Running time: 21.00 mins
Description: A trip down the Clyde by passenger steamer to Millport including footage of the Cowal Games, Dunoon, Rothesay and the Isle of Arran.

The British Transport Film Collection is preserved by the British Film Institute.

Credits: p. Stewart McAllister
ph. David Watkin
ed. Margot Fleischer, Cynthia Barkley
m.d. Muir Mathieson
sc. Jack House
exec. p. Edgar Anstey
nar. Bernard Braden.
Shotlist: Credits (.30); Ocean-going passenger ship leaves wharf (.40); Clyde Estuary from ship (.49); Passengers disembark at Greenock (1.02); Detailed map Clyde Estuary and surrounding coastal land (1.20); Wemyss Bay station, mainly interiors and railway employees attending to numberous potted plants all round station (2.09); Shots on deck unidentified steamer in Firth of Clyde as another passes (2.25); Below deck, engine rooms (2.59); Shots from steamer as it approaches Largs and berths (4.04); Steam train approaches Largs, by-passing monument commemorating "the day the Scots threw the Vikings out of this part of the world" (4.19); Largs sea front from end of pier (4.27); Families at play on beach at Millport (5.06); Fishing boat approaches Marine Biological Station at Kepple Pier (5.27); Examples of sea creatures in tanks at the Station, including starfish, sea anemonies, octopus, etc. (7.16); Map of the area (7.23); Shot of statue of Robert Burns' "Hieland Mary" in castle gardens, Dunoon (7.33); Pipe bands march to Cowal Games, Dunoon (8.06); The showground (8.15); Small girls give display of highland dancing, others look on (8.40); Games in progress, featuring running, pole vaulting, throwing the hammer and tossing the caber (9.23); High shot steamers leaving Dunoon pier (9.20); Steamer arrives at Rothesay (9.34); Holidaymakers putting on the front at Rothesay (9.47); Brief shot of town buildings (9.52); Small boys fishing off the pier (10.00); Car ferry is loaded (10.06); Steamer "Queen Mary" berths at pier (10.18); Passengers disembark and island supplies are unloaded (10.31); Steamer leaves pier (10.58); Shots of yachts from steamer on its way to Kyles of Bute (11.17); Shots of scenery as steamer negotiates the Kyles of Bute (12.43); Seals basking on rocks and swimming in sea (13.08); Shot of church (13.33); Steamer in Loch Long (14.13); Steamer berths at Arrochar (14.22); Shots of Loch Lomond (14.45); Map of Loch Lomond area. (14.54); Steamer at Gourock (15.14); Another shot of the map of the area. (15.20); Steamer sails "doon the water" with shots of passengers on deck. (17.05); Shots in bakery of production of currant buns, scones, sausage rolls and cakes (17.59); More shots on deck of the steamer (18.04); Shots of a refreshment bar in a steamer (18.20); Shots from steamer as it approaches Arran (18.43); Shots of Arran farmland and scenery (19.39); Shots of Brodick Beach (19.46); More shots of Arran scenery (20.30); Shot of the old sandstone harbour (20.37); Shots from the steamer as it leaves Arran (21.00); ecs (21.19)