GLENFINNAN AND THE '45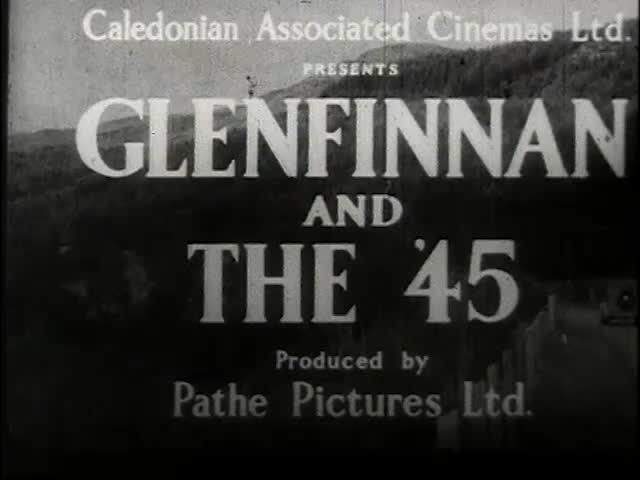 This video is not available to view remotely
Full length video - onsite only
Please read Understanding catalogue records for help interpreting this information and Using footage for more information about accessing this film.
Title: GLENFINNAN AND THE '45
Reference number: 0638
Date: 1945, August 18
Sponsor: Caledonian Associated Cinemas
Production company: Pathe Pictures Limited
Sound: sound
Original format: 35mm
Colour: bw
Fiction: non-fiction
Running time: 17 mins
Description: The Gathering at Glenfinnan in the Highlands to mark the 200th anniversary of raising by Bonnie Prince Charlie of the standard of James VIII of Scotland and III of England.

Commissioned by J S Nairn for the Playhouse, Inverness.
Credits: ph. Jock C Gemmill, Ronald Jay
narrative w. Dr D J Macleod, OBE, D Litt recording supervised by W S Bland
comm. James McKechnie
Anniversary speakers in order of appearance: Sir Donald W Cameron of Lochiel, KT; Lord James Murray, Marquis of Tullibardine; Rev Malcolm McLeod MA President of An Comunn Gaidhealach; Sir Iain Colquhoun, Bart, KT, DSO, National Trust for Scotland; Neil MacLean, MA BSc.
Supported by Lochaber Gaelic Choir
Shotlist: REEL I

Credits (.40); General view of Inverness countryside and Loch Shiel (.59); Shot of memorial to "Raising the Standard 1745" (1.09); General views of Inverness countryside while commentary describes the history of the '45 Rebellion (3.06); Shot of the memorial surrounded by people. Close-up of the statue on top of memorial, followed by long shot of the whole scene (4.10); Sir Donald Cameron talks about the 200th anniversary of the Raising of the Standard of James VIII of Scotland and III of England (7.29); A Gaelic song is sung by a choir (8.08); General views of the loch (8.18)

REEL II

No credits. Speech by the Marquess of Tullibardine (2.23); Gaelic song from the choir (4.03); Speech in Gaelic from the Rev. Malcolm McLeod (4.40); English song from men wearing the kilt with choir joining in Gaelic chorus (5.56); Vote of thanks by Sir Iain Colquhoun (7.03); General views of countryside with commentary giving further details of history (7.19); Shot of cairn to commemorate Culloden. (8.00); Back to lochside and shot of small boat rowing across loch in the evening, sun low and song "Over the Sea to Skye" sung in the background (8.18); ecs (8.27);

REEL III

[35 mm Nitrate trims of Reel II - junked in October 1979]