WORLD OF CASHMERE, the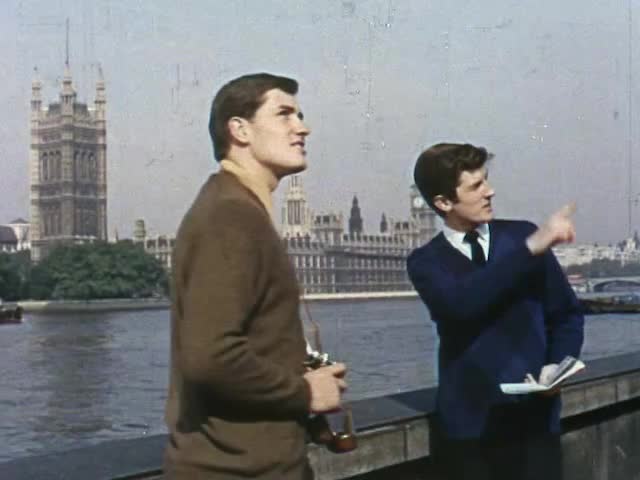 This video is not available to view remotely
Full length video - onsite only
Please read Understanding catalogue records for help interpreting this information and Using footage for more information about accessing this film.
Title: WORLD OF CASHMERE, the
Reference number: 0579
Date: 1966c
Director: d. Frederick Goode
Sponsor: Pringle of Scotland
Production company: Associated British Pathe Production
Sound: sound
Original format: 16mm
Colour: col
Fiction: non-fiction
Running time: 26 mins
Description: Cashmere imported from Mongolia is spun and knitted into fine yarn at the Pringle factory in the Borders town of Hawick for Pringle garments.

See also ref. 0578, 3483 and 3484
Credits: Dyeing and spinning sequence filmed at Todd & Duncan Ltd Kinross
ph. George Stevens
w. Roger Dunton
supervising film ed. John Blair
film ed. Frederick Ives
sd. rec. George Newberry, Trevor Pyke
p. man. Ron Holtzer
m. d. John Shakespeare
vocal arrangement Ward Swingle
additional m. Joan Shakespeare
p. Lionel Hoare
exec. p. Harry Field
Shotlist: Credits (0.13); Sunset. General views of Mongolia. Goatherds and cashmere goats. Underfleece combed out by hand using wooden combs and put into sacks (2.24); In village, a man lifts a sack and walks down the hill. Yak carrying sacks of wool. Mule train (3.19) Weighing sacks and carrying them down to waiting boats. Shots of boats loaded with sacks being poled down river (4.13); General views of border landscape. Long shot of Hawick (4.53) Hawick streets. Exterior of Pringle of Scotland factory (5.07) Laboratory testing of dyes (5.30); Raw cashmere being dyed, dried and teased and oiled by machines. Spinning machinery (9.23); Long shot of machinery and various shots of spinning onto cores (10.22); Cores weighed and stacked on shelves (11.00) Design office (11.55); Garments laid out for inspection (12.18) Model wearing jersey (12.37); Class for new employees on the techniques of production (13.02); Knitting machines. Man hand-knitting a floral pattern using "intarsia" tecnique, laying threads into weave by hand (14.30); General shots of machines on main production floor (16.31); Woman hand-sewing (17.17); Weighing garments (17.26); Garments "Milled", ie, washed and dried. Pressed on dummy and shaped with steam irons (18.48); Measured (18.54); Woman putting finishing touches to a garment and cutting out a cardigan (21.17); Finished garment is steam pressed in a flat press (21.53); Labels put on and garments packed into bags. Man packing skirts (23.03); Train at station platform. Box is loaded on (23.14); Plane taking off (23.22); Various models illustrated the different designs with different settings (25.00); Brief shot of mountaineer on cliff and shot of mountains in Mongolia (25.20); End credits (26.01).