BRIEF BEEF BIOGRAPHY, a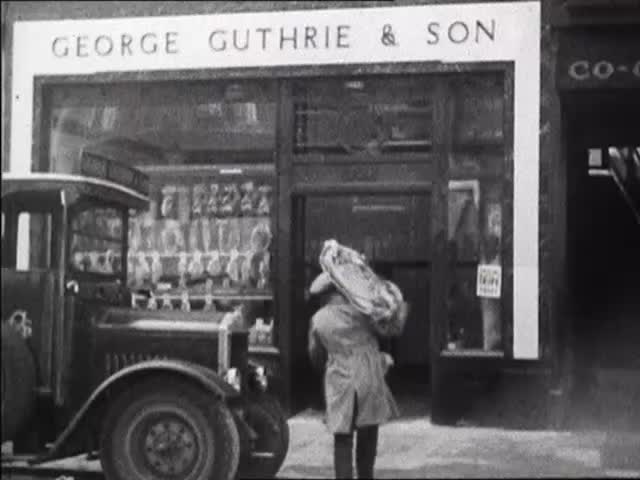 This video is not available to view remotely
Video 1

(currently displayed video)

Full length video - full length available onsite

Guthrie's meat delivery van arrives outside Guthrie's butchers followed by meat on display in shop and butchery work underway on carcass. (clip)
Please read Understanding catalogue records for help interpreting this information and Using footage for more information about accessing this film.
Title: BRIEF BEEF BIOGRAPHY, a
Reference number: 0442
Date: 1931
Sponsor: [ George Guthrie and Son, Butchers, Glasgow]
Production company: [ Jay's Screen Service]
Sound: silent
Original format: 16mm
Colour: bw
Fiction: non-fiction
Running time: 3.00 mins
Description: An advertising film promoting the quality of George Guthrie's beef cattle. One of a series of advertising films made for George Guthrie Butcher, Glasgow.

Screened in Guthrie's shop window in Maryhill Road until crowds gathering outside on the pavement spilled over into the road and the police objected (anecdotal evidence from member of public at a screening).

Preservation of this film supported by the National Heritage Memorial Fund.
Shotlist: Credits (.07); In the heart of the country. Shots of cows in fields (.28); Midst scenes like these - ankle deep in rich pastures. Shots of cattle (.50); ..Guthrie's Cattle grow into these magnificant beasts. Shots of bulls (1.08); Stock experts select the finest. Shots of same. And convey these cattle to Guthrie. Shots of cattle being loaded onto van belonging to Guthrie. Shots of the van on the road. The daily supplies arriving. Van outside shop. Sides of beef are taken inside and butchers cut them up. Shots of meat on the counter (2.54); Good news travels fast. Shots of people looking in the window and queuing up in the shop (3.14); Guthrie's beef pleases purse and palate. Always buy Guthrie's (3.28)