CLYDE STEAMERS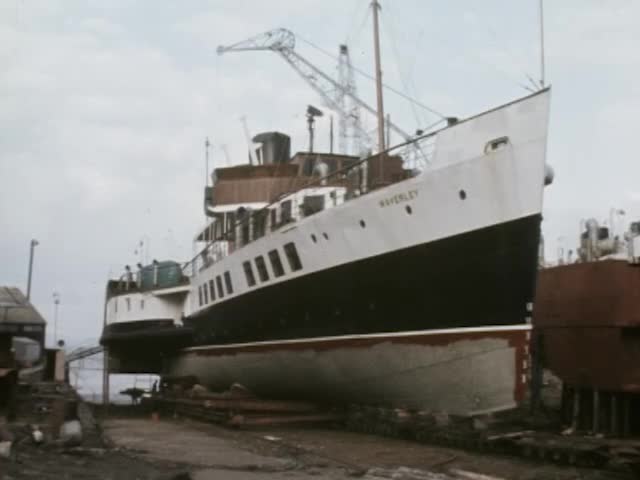 This video is not available to view remotely
Video 1

(currently displayed video)

Full length video - full length available onsite

The steamer 'Duchess of Hamilton' sits in the docks after finishing service on the Clyde. (clip)
Please read Understanding catalogue records for help interpreting this information and Using footage for more information about accessing this film.
Title: CLYDE STEAMERS
Reference number: T2288
Date: [1974, April]
Production company: [ Scottish Television]
Sound: sound
Original format: 16mm
Colour: col
Fiction: non-fiction
Running time: 9.49 mins
Description: A news and current affairs piece on the predicament of the Clyde Steamers after the arrival of the motor car. Includes discussion of the 'Waverley' paddle steamer and the work of the Paddle Steamer Preservation Society.
Shotlist: shot of Gourock pier, pulling away to show car ferry 'Glen Sannox' sailing (0.26) ints man at steering wheel (0.31) approach and landing at Dunoon, includes shot of ropes being thrown ashore (1.05) passengers disembarking (1.13) gvs 'Waverley' paddle steamer in a state of disrepair (1.39) i/v with Douglas MacGowan, Scottish representative of the Paddle Steamer Preservation Society, on why the 'Waverley' should be saved, it being the last sea going paddle steamer in the world (2.31) shot of 'Waverley' on slipway at Lamont's, followed by further i/v discussing how restoration etc will be financed, negotiations with Scottish Tourist Board and Highlands and Islands Development Board about what the future holds for the 'Waverley' (3.16) shot of the two men walking along deck (3.34) i/v on bridge of 'Waverley', regarding how it should stay on the Clyde, the valuable contribution made by Paddle Steamer Preservation Society (4.31) shot of hull being painted red (4.43) shot of men walking beside steamer (4.53) view over Gourock Bay (?), gvs Gourock Pier, including exts Pilot Buffet Bar (5.18) car ferry 'Glen Sannox' is loaded at Gourock Pier, departure of same (6.33) presenter to camera, standing in front of the 'Queen Mary' summarising some of the history and possible futures for ships on the Clyde (7.10) i/v Captain Fergie Murdoch reminisces about his time working on the Clyde Steamers, the onset of the motor car and how that changed the work of the steamers, he subject of car ferries (8.16) walking along pier beside 'Duchess of Hamilton', Mr Murdoch discusses his work sailing that vessel, remembers how he sailed her on her last voyage (9.49)