GLASGOW RAIL FREIGHTLINER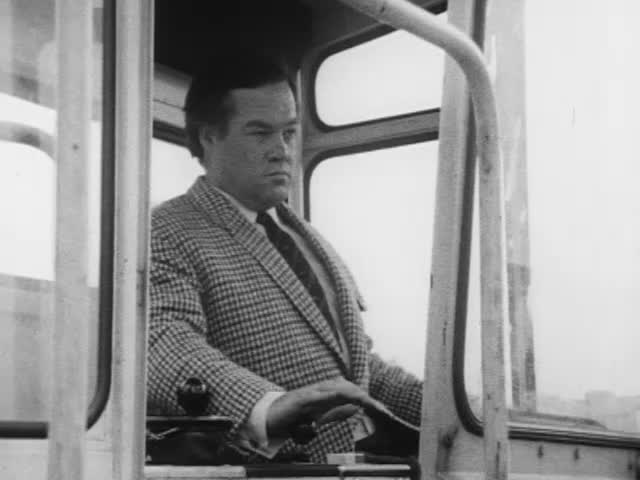 This video is not available to view remotely
Video 1

(currently displayed video)

Full length video - full length available onsite

Bill Tennent talks to the depot manager of the new Freightliner terminal at Gushetfaulds, Glasgow. (clip)
Please read Understanding catalogue records for help interpreting this information and Using footage for more information about accessing this film.
Title: GLASGOW RAIL FREIGHTLINER
Reference number: T2045
Date: 1965*
Production company: Scottish Television
Sound: sound
Original format: 16mm
Colour: bw
Fiction: non-fiction
Running time: 12.02 mins
Description: Report on the newly opened rail freightliner depot in Gushetfaulds - Gorbals, Glasgow. Includes interviews with the divisional manager, a crane operator, depot manager and a client of the freightliner depot.
Shotlist: opening credits (0.32) shot of Bill Tennent operating a rail freightliner crane at the freightliner depot in Gushetfaulds - Gorbals, Glasgow (1.04) B.T. descends from the crane (1.39) interview with James G. Urquhart divisional manager in Glasgow discussing the freightliner business in connection with the rail network interspersed with shots of the cranes being operated - loading the freight containers onto the rail carriages, and the train setting off (5.00) interview with a business man in the yard of the depot discussing why he uses the freightliner service (6.46) interview with Charles Dundas, a crane operator standing beside his crane interspersed with shots of the cranes in operation (8.40) interview with depot manager (George Ember?) in the depot interspersed with shots of the depot in operation (11.43) B.T. to camera, ending the first half of the programme; [sound continues after picture] (12.02)