PERTH FLYING SCHOOL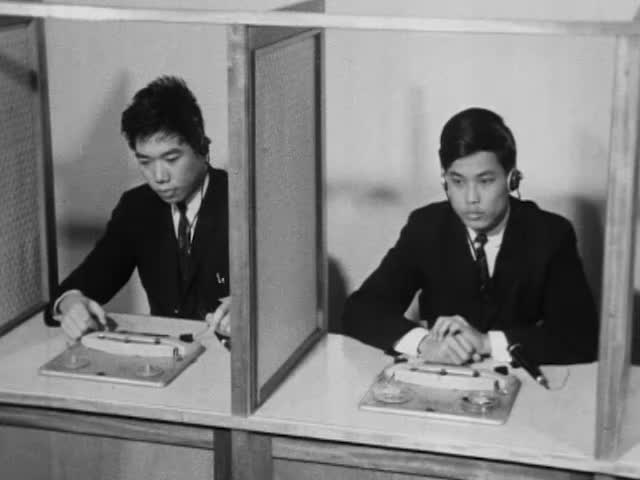 This video is not available to view remotely
Full length video - onsite only
Please read Understanding catalogue records for help interpreting this information and Using footage for more information about accessing this film.
Title: PERTH FLYING SCHOOL
Reference number: T2240
Date: 1966
Director: d. Geoff Rimmer
Production company: STV
Sound: sound
Original format: 16mm
Colour: bw
Fiction: non-fiction
Running time: 25.04 mins
Description: Report on the only existing commercial flying training school in Scotland at Scone. The school trains students from across the world, though usually from Britain and the Commonwealth.
Credits: rep. Bill Tennent
ph. Bill Scott
sd. rec. Len Southam
film ed. Fred Bull
programme associate David Duncan
programme ed. Bill Lyall
Shotlist: Title (0.25) ls light aircraft taking off (0.33) ints aircraft, instructor and Bill Tennent in seats ahead, intercut with closer shots of controls, and ints. control room (2.23) gvs aircraft landing, and BT climbing out (2.49) ms BT to camera (3.16) ls whitewashed control building (3.20) c/u AST Perth crest (3.23) Iv Wing Commander Nugent, Principal of the School, he speaks about the origins of the school, its students and the cost of training; i/v carries on in v/o over shots of maintenance work in hangar, aircraft taking off (7.06) pan over students listening to training tapes in booths- after a question has been asked, they tape their reply, before listening to the answer (7.37) iv. tutor in "language laboratory" control booth explains the process to BT [used to drill candidates in use of technical terms, used e.g. in Aviation Law] (9.05) ints. tutor and student using Link trainer; iv tutor; BT climbs in, close shots as he is tilted by the machine; signs off (11.46) Time Out With Tennent end of part one (11.55) counter leader (12.08) Time Out With Tennent part two (12.08) ms BT to camera; student pilot James Nalangu? being briefed by chief flying instructor Captain Bob Critchley (12.50) ints. Perth airfield control tower; talking head operator, who describes the activity of the airport and training of other controllers [binoculars on desk] (14.35) travelling shot of aircraft taking off (14.45) ints. student pilot copes with simulated engine failure, brief intercut with travelling shot aircraft over cloud level (15.25) iv businessman Mr Nikki Hirsch, a private license holder (17.03) ints. trainee pilot operating controls (17.31) ls from ground and travelling shot from aircraft as it lands on a grass runway (17.54) exts. control tower; ints. James walks into room of students after the exercise (18.03) talking head James Nalangu? describes his background training as an air traffic controller in Nairobi (18.47) iv's other students about how they came to be taking the course and their career hopes (22.36) talking head Bob Critchley outlines the requirements of the 52 week course (24.24) ecs (25.04)