DOON THE WATTER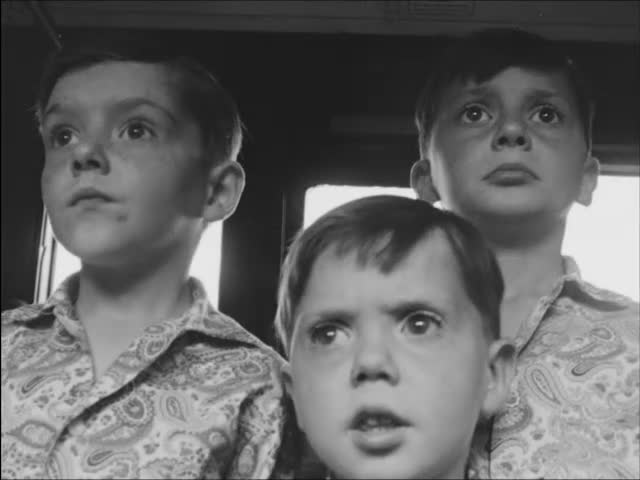 This video is not available to view remotely
Full length video - onsite only
Please read Understanding catalogue records for help interpreting this information and Using footage for more information about accessing this film.
Title: DOON THE WATTER
Reference number: T1502
Date: early 1960s
Production company: Scottish Television
Sound: mute
Original format: 16mm
Colour: bw
Fiction: non-fiction
Running time: 24.28 mins
Description: Rushes (?) of a programme following a family "Doon the Water" from Millport to Dunoon and taking in Rothesay along the way, included is an interview with Chic Murray in Rothesay outside the theatre he was appearing at.

Not transmitted (?) please note this film is mute ie there is no accompanying soundtrack.
Shotlist: family getting train tickets punched at kiosk before boarding train on platform 13 of Glasgow Central Station(1.37) tracking from train leaving the station passing briefly a steam train and onto the countryside, passing unidentified station(3.29) shot from inside of carriage with children looking out of window(5.13)family getting of train(6.05)family boarding ferry to Millport(6.31) family on board ferry(6.55) shot of Wemyss Bay harbour from ferry(7.20) shots of family enjoying the ferry journey(7.43) shot of a seagull(7.56) views of ferry cutting the water moving onto more general shots of the family on board(9.07)brief shot of the yacht the "Duchess of Montrose"(9.17) family getting of at Rothesay with a shot of the ferry "Arran" in harbour(10.12) clear stock(10.30) family getting of ferry(12.00) busy street scenes of Rothesay as family walk around(13.05) clear stock(13.25) family entering hotel, shot of Rothesay from bedroom window and boy looking out(15.25) family entering guest house? and leaving guest house(17.31) children playing on beach, making sand castles then playing on swings, slide and roundabouts(21.11) Chic Murray and family with dogs leaving a theatre with a sign saying "The Chic Murray Show" with him and unidentified woman being interviewed outside the theatre(22.45) unidentified family being interviewed(24.01) the same family - in Dunoon - around a spit with a pig? being roasted and members of the family eating the pig in rolls(25.33).