SCOTTISH TEAM ARRIVE AT GLASGOW AIRPORT AFTER WORLD CUP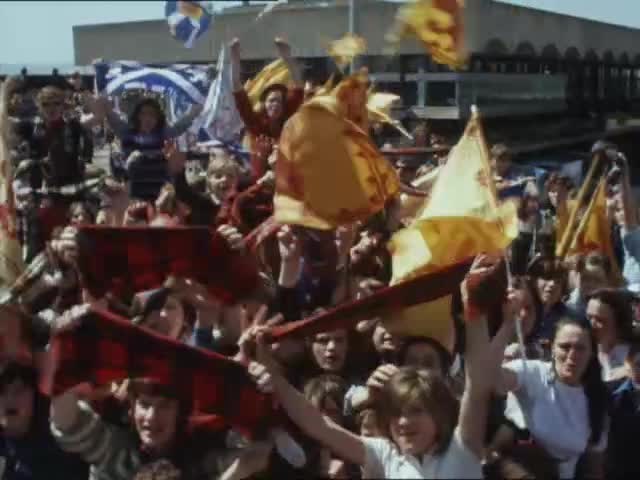 This video is not available to view remotely
Full length video - onsite only
Please read Understanding catalogue records for help interpreting this information and Using footage for more information about accessing this film.
Title: SCOTTISH TEAM ARRIVE AT GLASGOW AIRPORT AFTER WORLD CUP
Reference number: T0176
Date: 1974
Production company: Scottish Television
Sound: sound
Original format: 16mm
Colour: col
Fiction: non-fiction
Running time: 19.31 mins
Description: Scotland football team arrive at Glasgow airport to enjoy welcome by large crowds.

Note this is unedited footage. Sound and vision is sometimes interrupted. The second reel contains more interview footage.
Shotlist: [Note that both reels have been transferred to tape]

REEL 1
[no titles] fans with disabilities cheer at roadside (0.22) players arrive at Glasgow with luggage, some are interviewed and they meet the fans crowding roundabout (2.31) -blank- (2.41) children and interview with man in crowd (English accent) (3.21) interview with another man about Scotland getting knocked out (4.11) elevated view and interviews with children (4.54) more crowds and more interviews with fans (8.53) -blank- (9.04) more gvs crowds of cheering and singing fans (9.47) 367ft

REEL 2
gvs trims of same, including i/v with Willie Ormond (9.44) 365ft