CONSTRUCTION WORK, EDEN COURT THEATRE; DIGHTY BURN POLLUTION; SCHOOL MEALS; CAR CRASH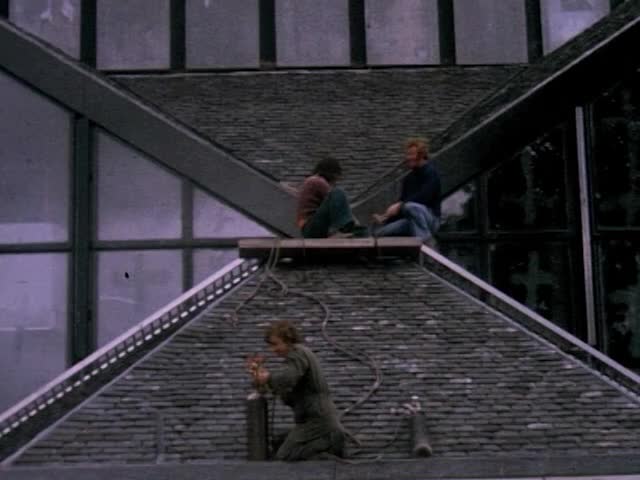 This video is not available to view remotely
Full length video - onsite only
Please read Understanding catalogue records for help interpreting this information and Using footage for more information about accessing this film.
Title: CONSTRUCTION WORK, EDEN COURT THEATRE; DIGHTY BURN POLLUTION; SCHOOL MEALS; CAR CRASH
Reference number: N0727
Date: 1975
Production company: Grampian Television
Sound: mute
Original format: 16mm
Colour: col
Fiction: non-fiction
Running time: 10.08 mins
Description: News compilation from Grampian Television. Construction work on the exterior of the Eden Court Theatre, Inverness. Shots of the Dighty Burn, suspected to be polluted. A report on the standards of school meal provision, includes interviews with children. Brief footage of the aftermath of a car crash.

Shotlist: exts construction work on the Eden Court Theatre complex, Inverness (2.22) [countdown leader] (2.33) gvs Dighty Burn (3.49) [countdown leader] (4.08) ints school canteen with queues of children receiving meals (4.26) interview with man regarding school meals provision (5.18) children explain their views on school meals (6.03) ints school canteen with queues of children receiving meals (6.47) interviews with school children (7.57) interview with man regarding school meals provision (8.38) reporter cutaways (9.15) [countdown leader] (9.27) gvs aftermath of car crash, with shot of damaged car overturned on wall (10.08)

[Note: Sound starts about 4 minutes into film, prior to this the film is mute]