WELIN McLACHLAN DAVITS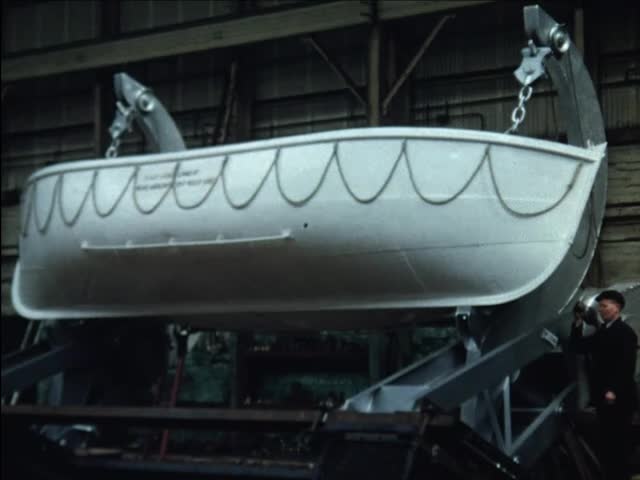 This video is not available to view remotely
Full length video - onsite only
Please read Understanding catalogue records for help interpreting this information and Using footage for more information about accessing this film.
Title: WELIN McLACHLAN DAVITS
Reference number: 8689
Date: 1953*
Director: [filmed by Don McLachlan]
Sound: silent
Original format: 16mm
Colour: col
Fiction: Non-Fiction
Running time: 5.57 mins
Description: Demonstrations on board ship and in a factory of Welin McLachlan davits being used to lower lifeboats and a life raft.

Don McLachlan's grandfather established the company Welin McLachlan which built davits for liners and naval vessels. The factory was possibly in Glasgow. Welin put up the money, McLachlan was the inventor. Don worked for the family firm as an engineer. Welin McLachlan Davits Ltd. was taken over by Samuel Taylor & Sons Ltd in 1958.

See also ref. 8800.

Don McLachlan was a keen amateur cameraman who began filming in 1935, firstly on 16mm reversal, then later on video. An engineer, keen sailor and family man, he recorded many aspects of his life, but rarely his working life. He died in December 2003.
Shotlist: [no title] - shots of working model of lifeboat on davit in operation at trade fair? - shot of Mrs. McLachlan and other women at trade fair (0.52) shots on board ship of demonstration of davit in operation, snow falling, group of men watching - c/u shots of machinery - gvs of davits, snow on deck of ship (2.01) shots inside factory of man operating davits with lifeboat (3.01) shots in factory of man operating davits with test weights - c/u shots of mechanism and winch (4.21) shots of two men on board ship attaching folded liferaft to cable - demonstration of liferaft davit: crane lifts raft over side, raft expands to full size, men jump from deck into raft as supply boat waits below - raft is lowered into water - man [Don McLachlan?] is lowered by winch into supply boat below (5.57)