ABERDOUR MARINE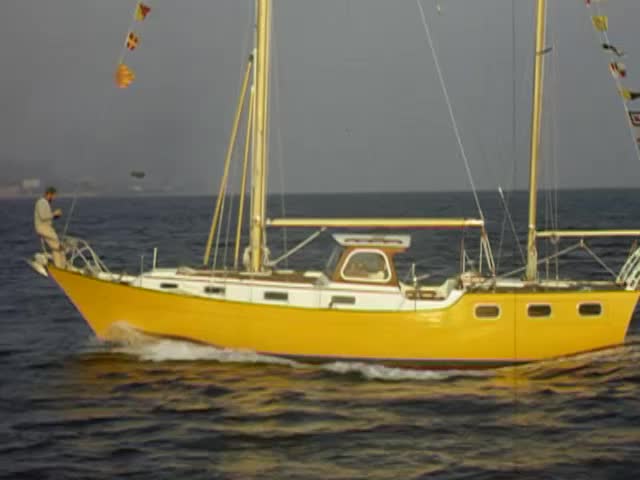 This video is not available to view remotely
Full length video - onsite only
Please read Understanding catalogue records for help interpreting this information and Using footage for more information about accessing this film.
Title: ABERDOUR MARINE
Reference number: 8676
Date: 1971 - 1976c
Director: filmed by Don McLachlan
Sound: silent
Original format: 16mm
Colour: col
Fiction: non-fiction
Running time: 35.06 mins
Description: Footage of the construction of motor yachts at Aberdour Marine Ltd., including shots of the construction, launch and trials of the Victory 40 ketches Scarab, Aviana, Lynns Victory, Tigress of Deben, Marguerite Anne and Sunbird II.

Information on the Victory 40 yacht can be found at:
http://www.victory40.co.uk/owners.htm [last accessed 19/06/2018]

Don McLachlan was a keen amateur cameraman who began filming in 1935, firstly on 16mm reversal, then later on video. An engineer, keen sailor and family man, he recorded many aspects of his life, but rarely his working life. He died in December 2003.
Shotlist: [shot-listed from VHS - burnt-in time code]

[no title] - gvs outside boat shed of Aberdour Marine Ltd, Stewart's crane truck and Victory 40 hull on flatbed truck - [black] - shot of side of van marked 'Yacht Builders, Aberdour Marine Ltd, Silver Sands, Aberdour, Fife' - int shots in boat shed, worker fixing small oval Aberdour Marine badge to boat - shots outside shed, motor launch and Victory 40 hull on flatbed trucks, pan across boatyard (1.09) shots of crane stabilising jacks being lowered - shot of boat under construction in shed, gvs of workers - shots of crane truck being stabilised, Victory 40 hull being reversed into position beside it - workers attach cables to hull and hull is lifted into boat shed on trolley - shots of workers and hull in shed (4.13) pan across shed with several boats - shots of first Victory 40 built, 'Scarab', being launched down slipway, c/u shots entering water, workers pulling on ropes, power winch in boat shed - shots of Scarab in water with workers on board - gvs Aberdour harbour with Scarab at pier - shots of Erskine Johnston and workers loading Scarab's mast on to roof rack of small pick-up van and wheeled bogie - van drives mast along road from shed to harbour, with stops for realignment, along main street of Aberdour, with policeman watching, down road to harbour - gvs at harbour, crane lifts mast and lowers it for fixing on to Scarab's deck - l/s harbour with Scarab and crane - worker abseils down mast (9.41) shots of Scarab at sea under sail - dinghy passing close by (11.26) shots of Victory 40 yacht being launched from Aberdour shed - workers prepare for launch and raise flag - cradle lowers yacht into water - shots of yacht on water, onlookers on shore - yacht sailing around harbour (13.46) pan across Silver Sands to boat shed - int shots in shed, shots of workers building another yacht, Erskine Johnston in office - int shots of galley, cabin, bridge and wheel, instrument panel, workers - shots of yacht on cradle on slipway, then being lifted by crane truck on to Pickford's low loader and driven along main street (16.38) shots of low loader with yacht at docks, next to cargo ship 'Advocate' - men arrive by car - shot of Don McLachlan climbing ladder to inspect yacht - shot of Caterpillar bulldozer being lifted on to ship by crane - shots of yacht being lifted on to ship by floating crane, placed on deck (19.16) shot of Victory 40 yacht 'Aviana' on slipway at Aberdour shed - shots of crane lifting mast to be fitted on deck - shots of workers fitting main mast - shots of stern and workers on board, crane lifting smaller stern mast for fitting - shot of mechanical winch in shed, Aviana goes down slipway into water - Erskine and workers pull rope - shots of Aviana on water with flag raised, shots of onlookers on beach, Aviana under power (22.47) shot of bay - shot of owners of new yacht getting out of car at shed - worker working on mast - shots of 'Lynns Victory' on cradle in shed - shots of workers preparing for launch, working on mast, man hanging bunting - gvs workers on board, slipway at low tide - shot of yacht on slipway - shots of Don McLachlan and owners conducting launch ceremony - shots of Lynns Victory on trials in bay with bunting and at sea under sail (28.04) l/s of boatyard - shots of Victory 40 yacht 'Tigress of Deben' on slipway before launch - shots of workers and owners watching as yacht enters water - shots of trials in bay and owners and workers celebrating (29.59) shots at pier at Aberdour Harbour, with 'Marguerite Anne' beside pier - shots of owner and workers, new owner makes speech and 'launches' boat, more shots of Erskine, workers and owners - l/s 'Sunbird II' at pier - shots of toddler playing with float on pier - shots of Sunbird II, owners? looking on - shots of Johnstons, workers and others on pier - new owners make speech and 'launch' boat - shots of Fiona and son Murray on pier, Margaret and new owners on boat - shots of Sunbird II sailing off and on trials in bay - repeat shot of worker fixing 'Aberdour Marine' badge on panel (35.06)