SIEGE OF FALKIRK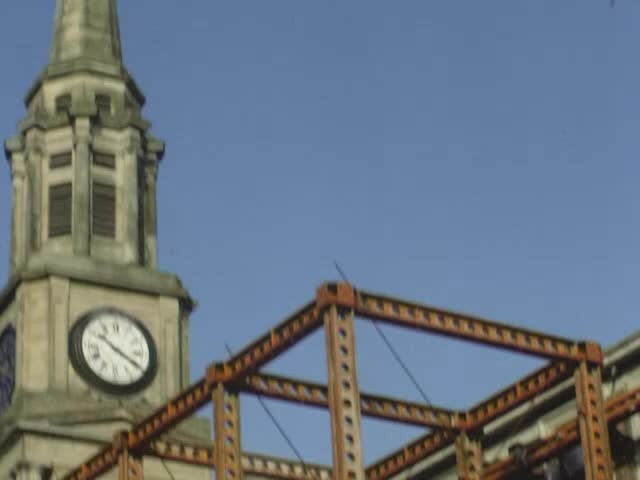 This video is not available to view remotely
Full length video - onsite only
Please read Understanding catalogue records for help interpreting this information and Using footage for more information about accessing this film.
Title: SIEGE OF FALKIRK
Reference number: 8491
Date: 1988c
Director: [filmed by Rev. John Jackson]
Sound: silent
Original format: 16mm
Colour: col
Fiction: Non-Fiction
Running time: 4.33 mins
Description: A record of major civil engineering works affecting the roads and infrastructure of Falkirk town centre in the late 1980s / early 1990s. Shows major upheaval to the centre of Falkirk.

Please note the date is currently a guesstimate, pending further research.
Shotlist: [shotlisted from VHS, manual control track]

[slightly oof] THE SIEGE OF FALKIRK! The fabulous roadshow (0.16) gvs heavy construction work, road building, digging, streets getting dug up in town centre (1.23) shot of bridge / flyover over road (1.30) views of half finished roads coming off motorway? main road to town (1.48) gvs High Street. building encased in steel scaffolding / supports (2.19) wider overview of developments at Howgate, lots of major engineering work, diggers, pipes, groundworks etc (2.48) gvs Princes Street, including exts Cannon cinema and school (3.00) misty weather conditions, gvs people walking about the town as work in still ongoing. gvs Christmas lights in streets gvs roadworks (3.37) c/u sign in shop window "Closing Down Sale Everything Must Go!" gvs roadworks and town junction (3.59) Balfour Beatty crane towering over the now a bit more completed major groundworks for road development (4.23) JJ Films 16mm (4.33)