UISTS AND BENBECULA, the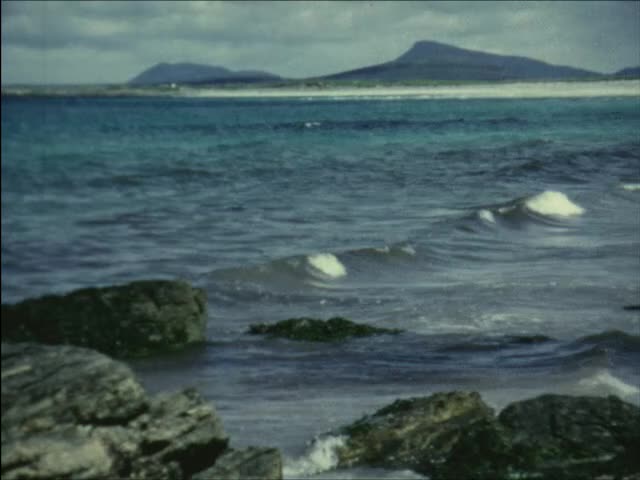 This video is not available to view remotely
Part 3 only (clip - onsite only)
Please read Understanding catalogue records for help interpreting this information and Using footage for more information about accessing this film.
Title: UISTS AND BENBECULA, the
Reference number: 7314
Date: 1970*/1971/1972*/1974/1982
Director: filmed by Archibald W. Ferguson
Sound: sound and mute
Original format: super 8mm
Colour: col
Fiction: Non-Fiction
Running time: 145.16 mins
Description: An amateur travel film about the islands of North and South Uist and Benbecula, including shots of the landscape, industry, architecture and history.

Note this film is sound and silent.

Shotlist: [shotlisted from DV - manual control track]

Reel 1:
A FERGUS-DIDO TRAVEL FILM - title - PRODUCED BY ARCHD. W. FERGUSON BARRHEAD 1971 - Filmed in FERGUSVISION Colour by DIDOCULLA - map of Scotland showing position of islands - c/u map showing North Uist, Benbecula, South Uist - PART 1 (1.40) The voyage from MALLAIG to BARRA (1971) - R.M.S Clansman - gvs Clansman at pier, boys on bikes - Leaving Mallaig for South Uist - brief shot of captain on bridge of ferry, coach boarding ferry, gvs Clansman leaving harbour (2.33) shot of pier from ferry (2.52) Eigg - gv of island - Rhum - gv of island - Skye - gvs of coastline - Canna - gvs coastline, cliffs - gvs sunset over water (5.02) The voyage from OBAN to BARRA (1974) - pan across Oban waterfront, steamer 'King George V' approaching in foreground - gvs steamer manoeuvring towards pier, passengers waiting to board - pan across harbour and pier - pan from petrol tank showing fishing boat being refuelled (6.40) shots of King George V departing - shots of mv 'Glen Sannox' approaching, including shot with sign 'Cars Q for Lochboisdale' in foreground - shots of stern ramp being lowered, lorries and vans disembarking (8.08) shots of cars embarking, ramp being raised, ferry departing - shots of mv 'Iona' approaching pier and tying up (9.51) tracking shot from car boarding ferry across ramp - gvs from deck of ferry leaving Oban: seafront, McCaig's Folly, St. Columba's Cathedral, Dunollie Castle, small lighthouse on rock, mv 'Glen Sannox'? passing, l/shots Duart Castle (11.51) shots from deck of ferry: village and distillery?, Rubha nan Gall lighthouse, passengers on deck (12.36) Approaching BARRA - BERNERAY, MINGULAY, PABBAY, SANDRAY & VATERSAY - c/u map of Barra - dark l/s of silhouetted islands (13.31) Castlebay Isle of Barra - c/u map showing Castlebay - Kissimul Castle The seat of the Clan MacNeil Chief - gvs of castle and town from ferry deck, boats in harbour, including lifeboat - gvs approaching Castlebay pier - shot of lifeboat at anchor - tying hawser to capstan, passengers waiting on pier (15.12) passengers disembarking along gangplank - shot from deck passing Kisimul Castle again - c/u map showing Lochboisdale - gvs ferry terminal, MacBraynes lorry disembarking from ferry, gvs Lochboisdale Hotel and village, pier, shore, harbour and loch (17.42) pan across loch, Lochboisdale and gvs small rocky islands (18.34) tracking shots from car along road, passing peat cuttings, crofts, sheep - shot of farmer at gate (19.22) c/u map showing Ludac - gvs village and rocky shore, curved pier - gvs Sound of Eriskay, beach, house and blackhouses - gvs beaches, road to 'Our Lady of Sorrows' church, road sign to Garrynamonie (21.04) tracking shots from car along road - gvs wide sandy beach at Garrynamonie and Orasay island (22.42) gvs Our Lady of Sorrows church, c/u of external mural - gvs wide sandy beach (24.03) l/s ruined church and graveyard at Boisdale - road and shed - c/u map showing Kilpheder - tracking shots from car along road (24.57) Pictish Wheel-house Kilpheder (A.D. 200-500) - gvs wheelhouse site, with tourists walking around, c/u shots of stone walls - pan across field of flowers (26.04) c/u map showing Daliburgh - tracking shots from car village, passing parish church, houses - gvs sunset over water - shots of ferry, mv 'Iona'? approaching pier at sunset with lights on - shots of crew members on deck, gangplank being hoisted, passengers and vehicles disembarking - PART 1 - THE END - PLEASE BE PATIENT WHILST WE CHANGE THE REEL (29.40) 445ft

Reel II:
O.K. WE'RE OFF! - [black] - title - PART 2 - l/s blackhouse - c/u map showing Flora Macdonald's Birthplace at Kildonan- gvs of monument in field, c/u shot of plaque, caption about monument - causeway across Loch Kildonan (1.41) c/u map showing Loch Eynort and Beinn Mhor - gvs loch and mountains (2.49) c/u map showing Rubha Ardvule - gvs Mini van parked at headland, landscape and shore - c/u shots of sea pinks - landscape and shore (4.45) DUN VULAN - gvs of remains of Iron Age broch - c/u map showing Ormaclett Castle - Ormaclett Castle Burned to the ground in 1715 - gvs of ruined castle, c/u shots of coat of arms plaque on wall - int. gvs, fireplaces, walls, stairways (7.34) pan from farmhouse to castle - c/u map showing Howmore - gvs of beach, bridge, sand dunes, sand patterns - gvs sunset over water (8.59) gvs Benmore Guest House, beach and bridge, mountain in background - gvs river and beach, bridge, river and mountains, river under bridge - gvs sand, river and beach (12.28) c/u shot dead duck - shots of river with black-faced gull fishing - gvs sunset over ocean (13.56) gvs road and crofts, car passing - shot of Howmore Church from road - gvs thatched cottages - gvs Teampull Mor ruined churches - c/u shots of walls, windows, graveyard, boundary walls - c/u shot of beetle in grass (16.03) c/u shots of gravestone, chapel - c/u map showing Loch Druidibeg, Hecla and Beinn Mhor - pan across loch and mountains - c/u map showing Loch Skiport - gvs loch and shore, hairpin road to jetty, gvs loch and landscape (17.50) shot of jetty - landscape shots - shot of Vulcan? flying overhead - gvs of road down to jetty, gv loch and ruined cottage - c/u shot flowers - gvs wooden jetty, lines of gas canisters (19.20) gvs loch and landscape - c/u shots rhododendrons - gvs landscape and wooden tower (20.41) OUR LADY OF THE ISLES - gvs of memorial statue - landscape gvs, including Geirinish and missile range (22.29) Army Rocket Range South Uist - l/s missile range buildings - c/u map showing West Geirinish - pan along houses (22.56) tracking shots from car through Geirinish - shot of entrance to Royal Artillery Range Hebrides - tracking shot from car along road - shot of MacBraynes lorry crossing causeway - gvs Loch Bi, causeway and swans(23.59) c/u map showing Loch Carnan - gvs loch, shots of blackhouse - road and landscape gvs, shots of peat cuttings in field (25.45) gv road and cattle grid - gvs sunset over water - c/u map showing Buaile-dhubh - Mrs. Johnstone's Shell decorated bus Carnan Iochdar - Over 86,000 shells were used in this work - gv thatched cottage and bus - gv South Uist Museum, side and front views of shell-covered bus - c/u shots of shells, garden gnomes in windscreen - int shots of bus, showing flowers and plants, shells and glue, seashell models - c/u shots of seashell souvenirs, including 'South Uist Pop Group', thatched cottage, flower baskets, Wombles (31.19) gvs of shell constructions in garden, model windmill, doll's house, lighthouse and ship - more shots of shell-covered bus, with Flora Johnstone standing beside it - gvs South Uist Museum building - PART 2 - THE END (32.45) 492ft

Reel 3:
title - PART 3 - gvs landscape and road, pan to roadside shrine - c/u map showing Ardivachar - gvs field of flowers and house, Ardivachar - gvs beach, shore, birds on rocks, coast of Benbecula in distance - gvs of beach and water (2.18) landscape gvs, river - l/shots of jet fighter overhead - gvs crofts, blackhouse beside lochan (3.24) map of Benbecula - scrolling caption with geographical info about Benbecula - SOUTH FORD - BETWEEN SOUTH UIST AND BENBECULA - shot of truck going across causeway - shot of low-flying RAF Vulcan - gvs of causeway structure and landscape - c/u shot of causeway support (5.29) c/u shot of cars approaching across causeway - landscape gvs looking across to Benbecula (6.06) tracking shots from car across South Ford causeway, stopping at Creagorry roadsign - gvs Co-operative shop and village, children playing on road - gvs lochan and bird (7.57) road sign to B891 Peters Port - gvs landscape and road bridges - gv peat cuttings in fields - gvs pier at Peter's Port, landscape and road - shots of two lorries with crane harvesting seaweed on shore (9.30) shot of war memorial - BORVE CASTLE - FORMER STRONGHOLD OF THE CHIEFS OF BENBECULA - gvs of ruined castle, pans across walls (10.24) gvs beach, creels in foreground, c/u shots creels, shots of fishermen in rowing boat (12.04) c/u map showing Nunton Burial Ground and Culla - gvs Nunton House - gvs burial ground and ruined chapel - CULLA BAY written on sand - gvs of sandy beach and dunes (13.31) gvs landscape - gvs silhouette of blackhouse at sunset (14.31) c/u map showing Bailivanish - gv village street, cars at petrol pumps - gv Maclennan Bros. garage, gv road and council houses - shot of field of flowers (15.17) gvs coastline looking towards North Uist - c/u map showing Benbecula Airfield - gvs runway ending at beach, aircraft taxiing past (16.21) tracking shot from car along main road, into Benbecula Aerodrome, to parking space - shot of Civil Aviation Authority Terminal Building (17.19) l/shots BEA Vickers Viscount aircraft G-AOJE landing, taxiing - shots of luggage being unloaded, passengers disembarking from rear steps and entering terminal - underexposed int. shots in tearoom (19.25) crew members remove rear steps - shots of aircraft starting engines, taxiing to runway and taking off - shots of another BEA Viscount G-AOHT landing and taxiing to terminal - rear steps driven into position, passengers disembarking (21.40) later shots of Vickers Viscount G-AOHR in British Airways colours on runway, passengers disembarking from rear - gv of terminal building (22.13) A VERY BRIEF VISIT TO ST. KILDA TO AIR-DROP MAIL TO THE FORCES - map of St. Kilda showing aerial route - c/u shot map - c/u map showing Boreray - shots from across wing of aircraft: Boreray, circling round St. Kilda, cliffs, Loch Hiort and settlements, shot of cockpit, Boreray, cockpit and controls, pilot, shots flying low over water, approaching runway at Benbecula, landing, taxiing towards terminal building - PART 3 - THE END (26.28) 396ft

Reel IV:
title - PART 4 - map showing North Uist and Lochmaddy - scrolling caption about geography of North Uist - NORTH FORD - BETWEEN BENBECULA AND NORTH UIST (0.49) gv landscape - tracking shots from car across causeway, Vauxhall Viva reverses into passing place - static shot form causeway - tracking shots from car on to North Uist (3.08) c/u maps showing Grimsay - LACHLAN MACDONALD Weaver GRIMSAY NORTH UIST - gv croft and Mr. Macdonald - int. shots of Mr. Macdonald working at loom, c/u shots machinery and cloth, wide shots of loom and wooden frame loom (5.45) shots of rolls of finished material, sheepskins, material samples, knitted sweaters, c/u shot of 'Craftmade' label, 'Lachlan MacDonald ' label, Harris Tweed orb trademark, samples of cloth (7.05) c/u map showing Eaval - pan across shoreline and mountain - gvs bay and village, fishing boats beached on shore - gv road and village (8.39) THE LOBSTER FACTORY - GRIMSAY - l/s building - gvs lobster fishermen at pier in small boats - c/u shots of sorting lobster catch in crates - shots of fishermen leaving harbour in small boat - c/u shots of lobsters in crate (9.54) procession of fishermen carry crates up slipway - int shots in shed of lobsters being weighed and sorted (12.04) dark shots in factory?, inspector, lobsters - shots of lobster tails being measured and sorted - dark int shots in factory (13.32) shots of ducks in water, factory outlet pipes, slipway and lobster factory - c/u shots of lobster (14.16) l/s cairn on hillside - road, landscape and shore gvs, beach with Eaval in distance (15.36) c/u map showing Carinish - gvs village and landscape, large farmhouse - gvs sunset (17.18) c/u map showing Teampull na Trionaid - gvs of ruined church buildings and graveyard, pans along walls - c/u shot flower - boy and girl with dog Dido - gvs sunset (18.39) c/u map showing Baleshare island - gvs causeway road across to island (19.20) c/u map showing Clachan - gv village, blackhouse, river and bridge - shots of river flowing into sea - gv main street and cars, church on hill, c/u shots of black-headed gull and seagull - shot of blackhouse (20.58) Clachan Illeary - blackhouse at shore - int shots looking out of windows - gv blackhouse being renovated - gvs geese and ducks - gvs sunset over landscape (23.20) c/u map showing Loch Eport - gvs cottage, loch and mountain, dinghy (24.10) c/u map showing Locheport - gvs village, sign to Tweed Shop (24.47) Chambered Cairn of Barpa Langass 18ft. high x 72ft. diam. - gvs stone-built cairn on hillside, c/u shots of entrance passages, pans from cairn to landscape, more shots of cairn (26.49) shots of men collecting peat in wheelbarrow and bag, loading it on to tractor and trailer - c/u shot of bird - road sign 'Bayhead' - gvs of village, river (27.56) roadsign to Kyles, Paible and Balmore - shot of cattle, road - gvs of wide sandy beach (28.53) c/u shot of sign 'Highlands & Islands Development Board Uist Bulb Project' - gvs bulb fields - gvs blackhouse, church by shore, c/u shot of waves - PART 4 The End (29.44) 447ft

Reel V:
title - PART 5 - c/u map showing Hougharry - gvs graveyard and ruined church, c/u shots of old gravestones - gvs graveyard and village - c/u lintel inscription '1768' - c/u commemorative stone for Macdonalds of Balranald - c/u gravestone of John MacCoorum the Uist Bard - gvs gravestones - c/u shots of gravestones of unidentified WWII servicemen (1.43) gvs of bay, beach and village - c/u map showing South Clettraval - gvs of surrounding landscape from top of hill (3.26) c/u shots of trig point on hill - gv landscape - shot of RAF radar lorry? - gvs Scolpaig Tower and loch - gvs Vallay Strand, shots of travellers' caravan at farm (5.00) c/u map showing road junction and Vallay Strand - gvs road bridge and view across water to Vallay - c/u shot of water (5.42) SHEEP SHEARING IN THE FIELD NEAR SOLLAS - shots of crofter and boy shearing sheep with manual clippers in pen, watched by sheepdog - shot of ponies - tying sheep's legs before shearing - shot of crofter tying up fleeces (8.15) c/u map showing Sollas - road sign 'Sollas' - tracking shots from car along road through village, passing shed with Cooperative and MacBraynes lorries - shots of cottage beside burn, gv shoreline (9.04) Loch Aonghais and ruined fort - gvs loch and island - c/u map showing Vallaquie Strand - gvs wide sandy beach, shots of house and blackhouse - more gvs of strand with swans in water, man fishing at side (11.04) gvs sunset - gvs sea and coastline, shimmering water - c/u map showing Loch nam Ban pier and Torogay island - c/u shot kitten in field - gv coastline and slipway - c/u shots of kitten, chaffinch - gvs sunset over sea (13.32) THIS GERMAN ORDNANCE SURVEY MAP WAS FOUND BY A UIST SOLDIER DURING THE LAST WAR WHEN HIS UNIT RANSACKED A CAPTURED GERMAN HEADQUARTERS - c/u shots of details of map including Beinn Mhor and Barra, date 1938 (14.35) c/u map showing Lochmaddy and Loch Maddy - c/u shots of man talking - sign 'The Old Courthouse Guest House 1830' - gv of guest house building (15.37) tracking shots from car along road into Lochmaddy - shots of main street, Ford Cortina police car passing - gvs of coastline from Lochmaddy (16.47) tracking shots from car through Lochmaddy to pier - gvs of pier and buildings, sign 'MacBraynes Lochmaddy' - l/shots of pier and Lochmaddy Hotel (18.38) gvs of ferry 'Hebrides' approaching pier, passengers and MacBraynes bus waiting - shot of Pickfords lorry reversing off ramp - shots from on deck of cars embarking, ramp rising, gangplank removed (20.43) hawsers untied - shots of passengers and crew on deck - ferry leaving pier, people waving, l/shots of Lochmaddy (22.16) c/u shots seagulls following boat, passengers on deck, coastline - shots of funnel, Royal Mail pennant flying from mast, seagulls, coastline, passengers on deck, shots of stern (24.37) shots of North Uist coastline - shots of Skye coastline, approaching Uig - l/s of Uig pier, tilt down to caption THE END on ground - a FERGUS-DIDO film - Produced by Archd. W. Ferguson BARRHEAD 1971 - a FERGUS-DIDO film (26.39) 400ft