SILVER BUTCHER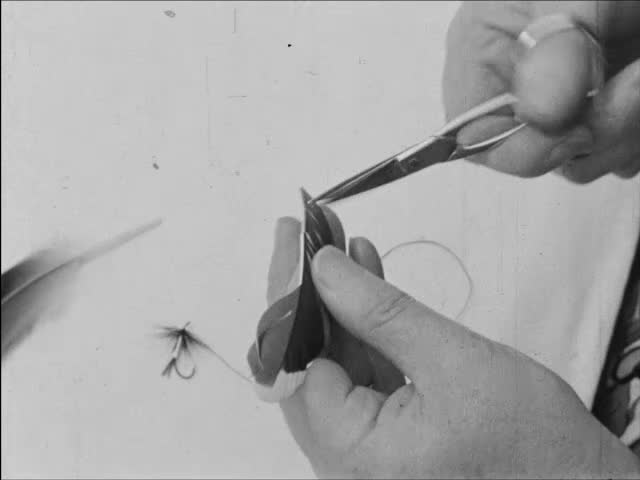 This video is not available to view remotely
Full length video - onsite only
Please read Understanding catalogue records for help interpreting this information and Using footage for more information about accessing this film.
Title: SILVER BUTCHER
Reference number: 7234
Date: 1952
Director: [filmed by W.S. Dobson (Primus)]
Sound: silent
Original format: 16mm
Colour: bwcol
Fiction: fiction
Running time: 8.28 mins
Description: A man has great difficulty making his own fishing flies, so he gets a friend to demonstrate the nine stages of making a 'Silver Butcher'.

Silver Butcher - Scottish Amateur Film Festival entry 1952 - commended.

Paper record held at 2/3/35.
Shotlist: Scottish Amateur Film Festival 1952 - Commended - title - int shot man reading book at fireside (0.27) c/u shot of tying fishing hook (0.40) man inspects hook and throws it away in disgust (0.47) shots of man telephoning woman (1.19) woman arrives at his house (1.29) man clears desk and woman starts work on hook (1.58) c/u instructions book, woman winding thread round hook (2.28) stage 2 instructions, woman fixes tail to hook (2.46) man watches and smokes pipe (2.48) stage 3, tying silver thread to tail (3.13) stage 4, flat silver tied to shank (3.42) stage 5, oval silver tied to rib (4.09) stage 6, hen feather tied on (4.31) stage 7, feather trimmed (4.55) stage 8, duck feathers attached (5.58) stage 9, trimmed and varnished (6.25) shot of perfectly finished hook compared with man's previous attempt (6.30) ext shots of man attaching hook to rod (6.50) shots of man setting off on river on rowing boat, angling, landing fish and dropping it back in - The End (8.28)