EMPIRE EXHIBITION - GLASGOW 1938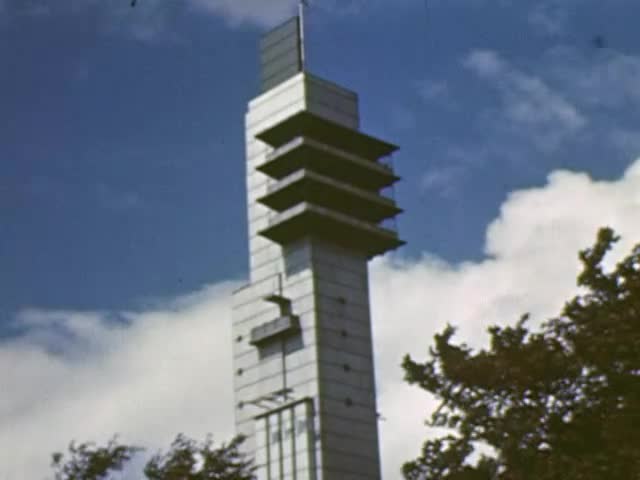 This video is not available to view remotely
Full length video - onsite only
Please read Understanding catalogue records for help interpreting this information and Using footage for more information about accessing this film.
Title: EMPIRE EXHIBITION - GLASGOW 1938
Reference number: 7202
Date: 1938
Director: [filmed by Jimmy McKenzie and Joe McRobert]
Sound: silent
Original format: 16mm
Colour: col
Fiction: non-fiction
Running time: 14.01 mins
Description: Blair family visit to the Empire Exhibition, Bellahouston Park Glasgow, with views of the pavilions, outdoor exhibits, avenues, fountains and the Amusement Park.

See also ref 0065.

Note: According to Ian Caldwell, (August 2008) former member of the Glasgow Education Dept. Jimmy McKenzie, Head of Visual Aids, Glasgow Education Dept. and Joe McRobert of Scottish Central Film Library jointly made a colour film of the 1938 exhibition. Caldwell fully expected that this film would have been in SCFL when the National Library of Scotland Moving Image Archive. started up in 1976.

Ref. 0065 has no attributable donor and was in amongst the films discovered and examined at the founding of the Archive. It is believed therefore that this could be the footage shot by McKenzie and McRobert and not, as previously catalogued, James Blair. A duplicate slightly different version is at ref. 7202 of similarly unidentified provenance. There is no evidence as to from where the attribution of these films to Blair came. There is definitively identified James Blair footage at ref. 2275 AN EMPIRE MEETS. Accordingly the attribution to ref. 0065 and ref. 7202 has been altered on the catalogue by the Curator, August 2008.
Shotlist: [no title] Sign outside Empire Exhibition arena. Entrance way and turnstiles for visitors. (0.22) gvs arena with Lister's Autotrucks, staircase and steps, ext Distillers Pavilion and avenues and fountains.(1.21) Army and Royal Air Force pavilion with tank outside. (1.39) Indian? visitors, dressed in white turbans and embroidered silk coats, inspecting a tank (1.57) Palace of Engineering, statues, fountains and pavilions. (2.19) Canada pavilion, Engineering pavilion, general views (2.40) New Zealand pavilion, Dominions Avenue (3.11) shots of Canada pavilion with member of the Royal Canadian Mounted Police standing at doorway (3.41) exts New Zealand, Ireland, Australia, Ceylon and gvs Dominions Avenue.(4.25) Listers Autotrucks, Industries avenue gvs, including tenements in background on Paisley Road West(4.58) frontage of Atlantic Restaurant, (5.03) GPO pavilion doorway and sign in Art Deco style, (5.17) gvs industries pavilions, including Ross's Dairies. (5.27) man jumping on to Lister's autotruck in motion. (5.33) gvs Dominions avenue, fountains, (5.59) Tait's Tower gvs, including plane flying past (6.21) SMT - Scottish Motor Traction - pavilion with bus on top (6.31) amusement park - gvs rollercoaster, the Stratoship, funfair rides, (7.30) An Clachan. gvs including woman spinning outside cottage, Post Office (8.34) Amusement park and funfair rides, Spitfire chair-o-planes (9.32) Performers outside booth with a "Continuous Performance", including Maori? (10.05) Laughing Sailors outside Krazy House. (10.35) electric cars funfair ride (10.53) man on stilts. funfair gvs. (11.52) children's swing park in front of Scottish Daily Express building. (11.59) Tait's Tower, gvs Dominions Avenue, fountains, (13.11) Palace of Art (13.17) gvs Scotland pavilion (14.01)