PRINCESS STREET CHURCH EVENTS OF 1937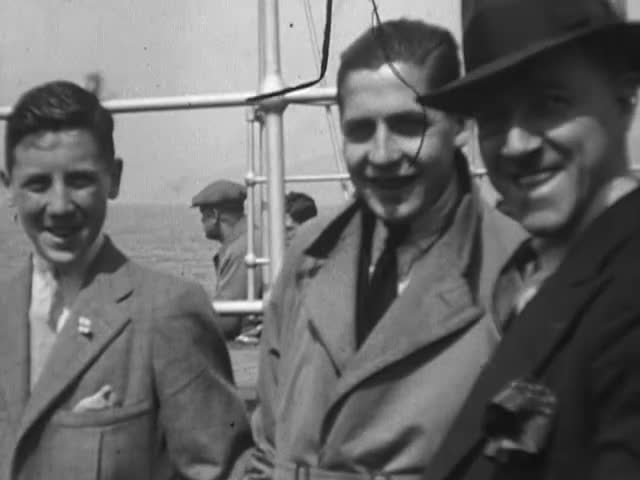 This video is not available to view remotely
Full length video - onsite only
Please read Understanding catalogue records for help interpreting this information and Using footage for more information about accessing this film.
Title: PRINCESS STREET CHURCH EVENTS OF 1937
Reference number: 1800
Date: 1937
Director: [filmed by Revd. George Allan]
Sound: silent
Original format: 9.5mm
Colour: bw
Fiction: non-fiction
Running time: 10.00 mins
Description: A compilation of Princess Street Church events of 1937, the Women's Guild trip to Inveraray , a Sunday School picnic to Blairmore, and the office bearers' outing to Girvan.

Rev. George Allan was minister in the Fenwick district c. 1930/34 and Port Glasgow 1935/39. His films, taken as a hobby, reflect community life centred on activities associated with the local church. The footage is well shot and edited.

See also films from this collection by Revd. Allan at 1798, 1799, 1801, 1802, 1804, 1805 and 1807
Shotlist: Princess Street Church Scenes & Events of Year 1937 Woman's Guild set off for Inveraray. (0.21) shots older ladies gathered on street (0.53) Sunday School picnic to Blairmore.1937. To Blairmore. Scenes on the Steamer Shots of same; c/u Blairmore sign; on the field children's races; women's race, shots of children playing; paddle steamer passing by (4.16) Junior Bible Class trip to Loch Lomond Renfrew Ferry children alight buses; l/s Balloch Castle, in Balloch Country Park; gvs of the group going out onto Loch Lomond in a small boat (6.58) The office bearers' outing to Girvan. group of men walk towards A Halt at Maidens shots men talking and stretching their legs; Girvan Showground Shots of men trying the coconut shy and beat the goalie; Putting competition. Shots of same. (9.59) Port Glasgow Gazette 1937. King George VI is proclaimed at Port Glasgow c/u clock; gvs proclamation; (10.57) Shots of elaborate decorations in honour of the 1937 coronation. (12.16) Opening day of Coronation Park. Shots of children piled onto park slide and swing, brass band; The End (12.52).