WINGS OVER EVEREST: The Story of the Houston - Mt. Everest Flight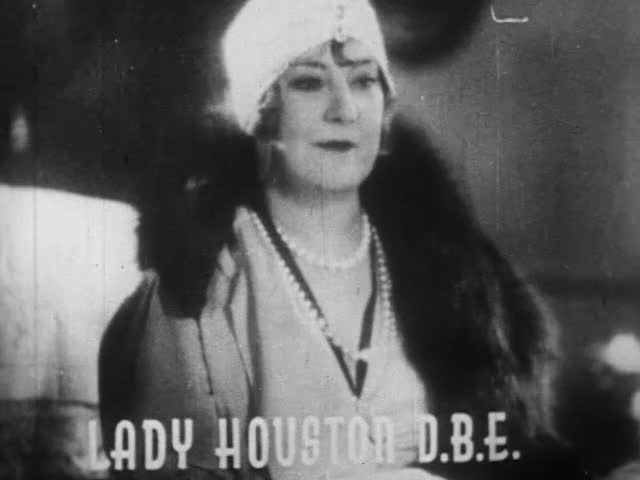 This video is not available to view remotely
Full length video - onsite only
Please read Understanding catalogue records for help interpreting this information and Using footage for more information about accessing this film.
Title: WINGS OVER EVEREST: The Story of the Houston - Mt. Everest Flight
Reference number: 7075
Date: 1934
Director: d. Geoffrey Barkas and Ivor Montagu
Production company: Gaumont British
Sound: sound
Original format: 16mm
Colour: bw
Fiction: non-fiction
Running time: 41.58 mins
Description: The first flight over Mount Everest on 3rd April 1933, in two modified Westland Wallace bi-planes piloted by the Marquis of Clydesdale and Donald McIntyre. This daring feat was conceived by a Committee (including the writer John Buchan) and was funded by Lady Houston. This detailed film follows the flight from planning stages, to engineering and testing to recording the actual flight itself.

See also ref. 1773 [602 CITY OF GLASGOW SQUADRON] for footage of McIntyre.

See book held in Archive library entitled PRESTWICK'S PIONEER - A Portrait of David F. MacIntyre for further background.
Credits: recorded by British Acoustic film recording system
Production Personnel
unit p. man. H. Ostrer
ph. S.R. Bonnett, A.L. Fisher, J. Rosenthal
ass. d. T.D. Connachie
recording R.L. Read, A.L. Douglas
m. composed by Hubert Bath
m.d. Louis Levy
Gaumont British Distributors Ltd.

We acknowledge, with gratitude and respect, the helpful co-operation of His Excellency The Viceroy of India, and the generous courtesy of His Highness The Maharaja of Nepal within whose territory Mount Everest stands. For the purposes of the film the material taken on the three separate flights - two over Everest led by Lord Clydesdale and one over Kanchenjunga led by Air Commodore Fellowes - has been combined.

The Committee:
The Earl of Lytton, The Earl Peel, Wing Commander Orlebar, Colonel the Master of Sempill, Colonel John Buchan, Count John de Salis.
Air Commodore Fellowes (Leader); Marquis of Clydesdale (Chief Pilot); Colonel P.T. Etherton (Secretary); L.V.S. Blacker (Chief Observer); Flying Officer D. McIntyre (2nd Pilot); Flying Officer R.C.W. Ellison (Reserve Pilot); S.R. Bonnett (Cameraman) and Lady Houston.
Shotlist: [BBFC certificate, passed for Universal Exhibition] (0.00) still of Lady Houston OBE whose generosity made this great adventure possible (0.09) title and credit, including full list of those involved in the project (1.43) gvs landscape around Everest, local men sit by tree playing pipes. Two Englishmen climb slope and look towards the peak of Everest, and muse on whether it would be feasible to fly over the mountain rather than climb it [commenting 'Are you on for a really first class show'!] (3.36) gvs London cityscape (3.51) meeting of key people in office of the 'Mount Everest Flight Committee' (4.30) c/u someone writing address on letter to Lady Houston (4.37) gvs 'Kinrara', Lady Houston's estate, with approach to the house (5.07) ints with Lady Houston, dressed in the fashions of the day, she agrees to help the project. C/u 'Schneider Trophy' (6.14) montage of shots planning starts: drawing the plane, telephoning (6.30) brief shot of people rushing down steps (Waverley Station, Edinburgh?) (6.42) women stitch flying suits (6.54) ints lab where chemists purify, dry and compress oxygen and prepare fuel for use at high altitude (7.29) gvs engineering work creating engine components - casting, moulding, cutting, machining metal. Using time lapse photography, an engine is magically 'built' before the viewer's eyes (8.40) firing up the engines and propellors, general testing (9.17) ints warehouse - engine, propellor and wings are fitted. The assembled plane is then weighed against designer's estimate with no room for error (10.43) shot of wash as seen from travelling ship. Ship leaves for India on 11th February, with two planes safely stowed in crates (11.04) c/u map showing route taken to Karachi (11.13) gvs ship's arrival in port, crates emblazoned with 'Westland Aircraft' are unloaded (12.08) wooden crate is unpacked (12.20) engine is manouvered (12.28) gvs as aircraft is assembled by Royal Air Force at Karachi (12.54) [beginning runs very fast fps] the aircraft taxis out of hangar (G-ACBR) (13.18) gvs and aerials on 20th March, detailing take off from Karachi for 1500 mile journey to Purnea on the great planes below the Himalayan Range (14.40) PURNEA approach to same (14.53) FLYING BASE (15.01) men sit in garden discussing possibility of a 'forced landing', general terrain (15.42) exts Post Office where postman is given message to deliver (16.01) gvs men discussing whether they should take parachutes with them. Postman delivers message with weather report (16.44) c/u calendar as days pass by, intercut gvs bad weather in the mountains (17.25) c/u calendar showing the date Monday 3rd April (17.51) gvs Himalayan mountain range (18.13) gvs as seen from reconnaissance plane leaving Purnea (G - ABWZ) (18.42) intercut with car driving along road, lots of Indian people by side of road (19.20) car and plane arrive at the same place. Men meet to discuss wind velocity and visibility, they examine a report from Purnea Meteorological Station. They decide to go ahead with the flight (20.33) gvs as men dress and prepare their kit (21.18) moving the plane into position (21.27) contd. gvs preparation (21.43) the second of the two planes is positioned - locals look on with interest and bemusement (22.00) men put masks on. They agree 'no heroics' if oxygen or heating should fail (22.30) propellor is cranked up, engines start (22.58) the two pilots - Clydesdale and McIntyre - discuss tactics (23.15) men make final adjustments to their kit, then board planes, as crowds of local people look on (24.53) both planes take off (G - ACAZ and G - ACBR) (25.17) cheers are raised from the men on the ground (25.47) local people gathering the harvest in hayfield, all stop and look up at the aeroplanes in the sky above (26.27) aerial shots, intercut ints man in plane reading map. gvs foothills clad in mist (28.37) gvs various crew, including cameraman (holding camera emblazoned with GB logo) gvs as they climb higher, and require oxygen (30.41) Himalyan Range clearly in view, mountain peaks including Kanchenjunga (32.20) back at base camp, the men try to work out where the planes are, pointing to map (32.35) c/u altitude gauge - they are now 33,000 feet, facing 100mph winds and -50 degrees below zero. The planes close in on Makalu and Everest. aerials mountains, The cameraman stands on his oxygen tube, breaking his supply. He repairs using rag and continues filming THE TOP OF THE WORLD (37.20) aerial shots Everest, man writes on notepad 'That's the NE ridge the climbers go up' (38.14) gvs mountains and Himalayan panorama (40.12) back at base camp, the men hear engines and run out to greet the planes returning. c/u of smiling faces of the various men involved (41.53) GB logo (41.55) [picture ends] (41.58) [sound ends] (41.58)